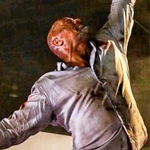 We had DIE HARD on a boat and DIE HARD in a bus and DIE HARD on a train and DIE HARD in a hockey stadium and a couple DIE HARDs in malls and DIE HARD on piano and DIE HARD still in a building but not as good with Anna Nicole Smith (called SKYSCRAPER) and now we have DIE HARD still in a building but not as good without Anna Nicole Smith (but still called SKYSCRAPER). Dwayne Therock-Johnson plays Will Sawyer, former FBI agent turned small time security consultant given the huge break of overseeing the opening of the residential upper half of a fictional 225 story world's tallest building in Hong Kong.
"The Pearl" as it's called due to a round structure at the top is owned by rich dude Zhao (Chin Han, THE DARK KNIGHT, GHOST IN THE SHELL), who we later find out is being shaken down by some tactical mastermind guy (Roland Moller, ATOMIC BLONDE) whose guerrillas infiltrate and set the building on fire. Will is outside of the building when it happens, but he gets blamed for it and must evade the police THE FUGITIVE style and figure out how the hell to get onto the building because his wife (Neve Campbell, WILD THINGS!) and twins (McKenna Roberts and Noah Cottrell) are on the 96th floor. (read the rest of this shit…)
VERN has been reviewing movies since 1999 and is the author of the books SEAGALOGY: A STUDY OF THE ASS-KICKING FILMS OF STEVEN SEAGAL, YIPPEE KI-YAY MOVIEGOER!: WRITINGS ON BRUCE WILLIS, BADASS CINEMA AND OTHER IMPORTANT TOPICS and NIKETOWN: A NOVEL. His horror-action novel WORM ON A HOOK will arrive later this year.