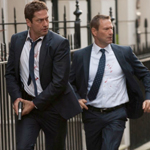 LONDON HAS FALLEN is the sequel to 2013's OLYMPUS HAS FALLEN, that one where Gerard Butler (GODS OF EGYPT) plays Secret Service agent Mike Banning, protecting President Benjamin Asher (Aaron Eckhart, I FRANKENSTEIN) when the White House is attacked. It is not to be confused with WHITE HOUSE DOWN, the one where it's Channing Tatum protecting Jamie Foxx.
Who am I fooling though? I get them confused so much I sincerely mixed up the titles when I wrote the first draft of this review in my notebook, and when I fixed it I started to type OLYMPUS DOWN. I was thinking I'd found the Tatum one to be the more passable 2013 half-assed excuse for a DIE HARD rip-off, but then I went to the tape. My review of that one is a little harsher, and ends by saying "If you see only one UNDER SIEGE IN THE WHITE HOUSE movie this year, see… ah, who gives a shit? Nobody will remember either of these movies a year from now. Of the two I think I preferred OLYMPUS HAS FALLEN. I forget why though. Something about Melissa Leo?"
In my day a movie had to excite somebody's imagination to get a sequel. Now it just hast to be the one of two similar bad movies that gets more money because it came out first. (read the rest of this shit…)
VERN has a new action-horror novel out called WORM ON A HOOK! He has been reviewing movies since 1999 and is the author of the film criticism books Seagalogy: A Study of the Ass-Kicking Films of Steven Seagal and Yippee Ki-Yay Moviegoer!: Writings on Bruce Willis, Badass Cinema and Other Important Topics as well as the crime novel Niketown.