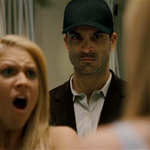 At a glance the PROM NIGHT of 2008 doesn't seem like a remake at all, but more of a re-use of the title. It doesn't take any major elements of the original or its unrelated sequels – there's no children's game turned deadly, no principal's son or masked killer or prom queen burned alive and back as a ghost or evil priest, no Hamilton High or Brock Simpson or even ambiguity about which North American country it takes place in (it's in Bridgeport, Oregon, though filmed mostly in L.A.). It does take place on prom night, though, so I totally get why they wanted that title.
If you look closely it is arguably based on a somewhat forgotten plot point of the original 1980 PROM NIGHT, but if so that detail is now a xerox of a xerox of a xerox of the fifth revision of the 13th draft. The part in question is the original's red herring about the pedophile who was blamed for the sister's death and now has escaped and the police are trying to make sure he doesn't come to the prom for revenge. The remake/"remake" uses a similar escaped lunatic template, but in this one it's ex-teacher turned stalker Richard Fenton (Johnathon Schaech, ACTS OF VENGEANCE) who, three years ago, became delusionally obsessed with his student Donna (Brittany Snow, PITCH PERFECT, BUSHWICK) and murdered her family in front of her. Unlike PROM NIGHT (but like PROM NIGHT IV and their original inspiration, HALLOWEEN) there's no whodunit mystery in this one. He definitely did it, he really is here, he for sure is killing a bunch of people, and we're seeing it. (read the rest of this shit…)
VERN has a new action-horror novel out called WORM ON A HOOK! He has been reviewing movies since 1999 and is the author of the film criticism books Seagalogy: A Study of the Ass-Kicking Films of Steven Seagal and Yippee Ki-Yay Moviegoer!: Writings on Bruce Willis, Badass Cinema and Other Important Topics as well as the crime novel Niketown.