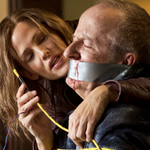 Well damn, I had been hyped to see PEPPERMINT in theaters but I lost the urgency after everyone told me it was bad, and it left before I got to it. Turns out it's the type of shit I like. Shoulda trusted my gut.
Admittedly it is guilty of that troublingly prevalent action movie problem of our era: vicious Mexican gang/cartel bad guys at a time when the ruling party in this country wants us to be having nightmares about that shit to justify their cruel, racist policies and moneymaking scams (see also SICARIO: DAY OF THE SOLDADO). As if left over from another time, the movie casts John Ortiz (CARLITO'S WAY, NARC, MIAMI VICE, AMERICAN GANGSTER, FAST & FURIOUS, FURIOUS 6) as the lead investigator, the one Latin good guy that's supposed to offset the stereotype. To be fair, they also have the cartel conspiring with local cops, judges and lawyers, so Corruption In The System is as guilty as The Other.
Anyway if you can stomach that then the only other action movie sins are the type that I just laugh at and enjoy, like the ludicrous TV coverage of our anti-hero's rampage (details later). I think the best way to explain the appeal of this movie is to say that I have enjoyed all of the PUNISHER movies, including this one. (read the rest of this shit…)
VERN has a new action-horror novel out called WORM ON A HOOK! He has been reviewing movies since 1999 and is the author of the film criticism books Seagalogy: A Study of the Ass-Kicking Films of Steven Seagal and Yippee Ki-Yay Moviegoer!: Writings on Bruce Willis, Badass Cinema and Other Important Topics as well as the crime novel Niketown.