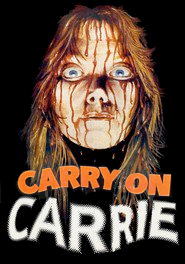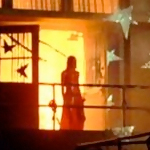 When one of us says "Carrie," I bet we all think of the same thing: Brian DePalma's iconic 1976 film, an American classic. It's the first and still-second-best movie based on a Stephen King book, so of course we could also be talking about that 1974 novel (the fourth that King wrote, but first he got published). Or we could be talking about the 2002 made-for-TV version, or the 2013 remake, or I suppose the 1952 William Wyler movie which in my opinion is not based on King's book. Anyway this week I'd like to take a look at the different incarnations of King's story. (Not the failed Broadway musical though. I never saw it.)
I'm assuming I don't have to tell you the story. And then I'm telling you the story just in case. Carrie White (Sissy Spacek, PRIME CUT) is a shy, awkward girl who already doesn't fit in at her high school before she has her first ever period in the locker room shower after gym class and thinks she's bleeding to death, much to the amusement of all her classmates. Yeah, thanks for the heads up on that menstruation stuff, abusive and mentally ill Christian fundamentalist mother (Piper Laurie, RETURN TO OZ, THE FACULTY).
The other girls get in trouble from their gym teacher Miss Collins (Betty Buckley, THE HAPPENING) for pelting Carrie with tampons and chanting at her. One of the girls, Sue Snell (Amy Irving, THE FURY) feels guilty about it and convinces her greatest-American-boyfriend Tommy Ross (William Katt, SUPER) to take Carrie to the prom and show her a good time. Another girl, Chris Hargensen (Nancy Allen, ROBOCOP), goes the other route, she's not allowed to go to the prom, and plans a cruel prank to avenge Carrie. Meanwhile, womanhood has unlocked in Carrie a freak power to control objects with her mind. So if she gets humiliated again, perhaps on stage at the prom to name one possible scenario, she's not gonna cower in fear this time. There will be Hell to pay.
(read the rest of this shit…)
VERN has a new action-horror novel out called WORM ON A HOOK! He has been reviewing movies since 1999 and is the author of the film criticism books Seagalogy: A Study of the Ass-Kicking Films of Steven Seagal and Yippee Ki-Yay Moviegoer!: Writings on Bruce Willis, Badass Cinema and Other Important Topics as well as the crime novel Niketown.