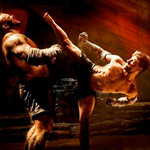 I don't know what I was expecting from KICKBOXER: RETALIATION, the new sequel to 2016's KICKBOXER: VENGEANCE, which was a remake of the 1989 Cannon classic KICKBOXER. I waited for midnight Thursday to watch it on V.O.D. as soon as it became available, so clearly I was excited. But I didn't think it was gonna be this good.
The original Kurt Sloane, played by Jean-Claude Van Damme, only made it to his part 2 in the form of a body double unceremoniously shot to death in an alley, leaving three sequels to a never-mentioned-before Sloane brother played by Sasha Mitchell. The remake Kurt Sloane, played by stuntman Alain Moussi, gets to stick around. A different Van Damme character, Sloane's mentor Master Durand, does survive for the sequel and continues to be the heart and soul of the series.
I love when sequels open with the character we know suddenly in a whole different place and life situation. My go-to example is RAMBO III, where we find John living in a temple in Thailand, winning underground stick fights for money. But this is more like a TEMPLE OF DOOM opening because we find Kurt in a tux, sexy salsa dancing with his now-wife Liu (Sara Malakul Lane, Seagal's daughter in BELLY OF THE BEAST) on a train at night. They get attacked and he has to slow-motion fight some people, including on top of the train in pouring rain as it crosses a bridge, until they all fall off. (read the rest of this shit…)
VERN has a new action-horror novel out called WORM ON A HOOK! He has been reviewing movies since 1999 and is the author of the film criticism books Seagalogy: A Study of the Ass-Kicking Films of Steven Seagal and Yippee Ki-Yay Moviegoer!: Writings on Bruce Willis, Badass Cinema and Other Important Topics as well as the crime novel Niketown.