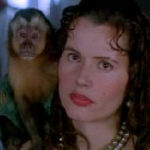 It took me nearly a quarter of a century to get around to giving CUTTHROAT ISLAND (1995) a shot. Certified by the Guinness Book as the biggest financial bomb of all time, it got poor reviews, bankrupted Carolco Pictures (FIRST BLOOD, T2) before it even came out, diverted director Renny Harlin (following DIE HARD 2 and CLIFFHANGER) from the A-list and failed to create momentum for its revolutionary notion of giving a woman the lead role and top billing on a big budget summer adventure.
But I had reason to be suspicious of its reputation. Many of Harlin's '90s movies, particularly his also-starring-Geena-Davis followup THE LONG KISS GOODNIGHT, deserve more credit than they got at the time. And there's definitely precedent for mob mentality panning of movies that have been heavily covered as over budget, out of control productions. This had the additional gossip-bait of the star and director being married to each other, causing mean-spirited speculation that one was only hired because of the other one's clout. (For example, an informative 1996 Independent article about what went wrong manages to refer to them as "Renny Harlin and his demanding wife.") On top of all that, you know how it is with what I call the Old Timey Adventure genre. They almost always lose money, even when they're great. That's just how it is. (read the rest of this shit…)
VERN has a new action-horror novel out called WORM ON A HOOK! He has been reviewing movies since 1999 and is the author of the film criticism books Seagalogy: A Study of the Ass-Kicking Films of Steven Seagal and Yippee Ki-Yay Moviegoer!: Writings on Bruce Willis, Badass Cinema and Other Important Topics as well as the crime novel Niketown.