June 19, 1998
(or is it THE X FILES?)

(note: Some people call it X-FILES: FIGHT THE FUTURE, but I think "fight the future" is just the tag line, like "DIE HARDER.")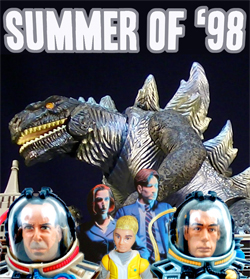 Oh shit, man. The '90s. The X-Files sure was a bigger deal in the '90s, wasn't it? And in some ways this movie spin-off of the show is the most era-representative of the ones I've watched in this series so far. Not in style, or in any kind of fun, nostalgic way – it doesn't feel very dated – but just in its view of the world. It spoke to a type of pre-millennium paranoia that has uncool associations today, but at the time was fresh and edgy and hip.
See, the internet was pretty new, so it wasn't common to know about every strange belief or kooky fringe group. If you wanted to find out about some weird creature somebody claimed to spot you had to read outdated cryptozoology books at the library. If you wanted to know about UFO cults you had to know their address and send them a self addressed stamped envelope and read their newsletter. I don't know why, but that's what I did at a certain age. One time I even went to a UFO cult's presentation on a college campus. All I really remember was a woman with a shaved head who seemed very sincere about all this. A few years later when the mass suicide happened I dug out a handout I'd saved, and though it didn't say "Heaven's Gate" on it anywhere it described the same theology, following the teachings of someone called "The Two" or "Ti and Do." And I always wondered if that lady got out in time. (read the rest of this shit…)
VERN has a new action-horror novel out called WORM ON A HOOK! He has been reviewing movies since 1999 and is the author of the film criticism books Seagalogy: A Study of the Ass-Kicking Films of Steven Seagal and Yippee Ki-Yay Moviegoer!: Writings on Bruce Willis, Badass Cinema and Other Important Topics as well as the crime novel Niketown.