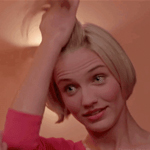 I forgot to mention in the SMALL SOLDIERS and PI reviews that LETHAL WEAPON 4 also came out that week. Then…
July 15, 1998
We all know the studios can be pretty cynical and obvious in the summer time. When you're dumping millions upon millions of dollars into these cinematic behemoths that are gonna battle it out for supremacy of Blockbuster Island, you're usually gonna lean toward easier bets – an old TV show or character people recognize, an easy to explain spectacle. Industrial light and mayhem. Disaster movies seemed like the thing after INDEPENDENCE DAY and TITANIC, so in Summer of '98 we got the comet and the asteroid and the name brand giant monster, and it's not that surprising that ARMAGEDDON would be the #1 grossing movie worldwide, or that GODZILLA would be #3. (That a war drama would be in between them was a little less predictable, but then again it was Steven Spielberg directing Tom Hanks.)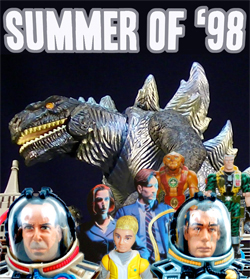 When an original comedy comes in at #4, though, that means something. That's one that has to be earned. THERE'S SOMETHING ABOUT MARY, the Farrelly Brothers' followup to KINGPIN, was an R-rated comedy with dick and semen jokes that somehow seemed a little elevated by their audaciousness, and it fucked up the zeitgeist way harder than Godzilla did New York. Laughs do matter.
Ben Stiller (HIGHWAY TO HELL) plays the hapless male lead Ted Stroehmann, and I mean he is completely devoid of hap. Sure, in the 1985 prologue (adult Stiller playing a 16 year old with a wig and braces is a treat) he does hap into a prom date with radiant babe Mary Jensen (Cameron Diaz [THE COUNSELOR], previously seen in FEAR AND LOATHING IN LAS VEGAS), but before they even leave her house a series of mishaps mishappen, and he misses the actual prom on account of public penis injury. (read the rest of this shit…)
VERN has been reviewing movies since 1999 and is the author of the books SEAGALOGY: A STUDY OF THE ASS-KICKING FILMS OF STEVEN SEAGAL, YIPPEE KI-YAY MOVIEGOER!: WRITINGS ON BRUCE WILLIS, BADASS CINEMA AND OTHER IMPORTANT TOPICS and NIKETOWN: A NOVEL. His horror-action novel WORM ON A HOOK will arrive later this year.