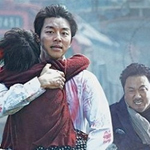 Most of the great zombie movies are not as much about zombies as about people and what they do when they band together and try to survive. This is the case with TRAIN TO BUSAN, last year's South Korean smash hit about the passengers on a train during a sudden ghoulification outbreak.
It centers on this dude Seok-Woo (Gong Yoo, THE SUSPECT) who is kinda like John McClane in that he's fucked things up with his family because of his work and you kinda feel sorry for him and know he wants to fix things even though to be honest he shoulda known better. But he's unlike McClane in that he's a handsome well-dressed fund manager guy. Totally different color of collar. Come to think of it he literally had a white collar because I noticed the tall collar on his shirt looked cool.
Anyway he's got a bunch of shit going on at work but he reluctantly agrees to bring his young daughter Su-an (Kim Su-an) on the train to Busan to see her mother, because it's her birthday and she kept threatening to go by herself and then he really blew it when trying to buy her a good present. (read the rest of this shit…)
VERN has a new action-horror novel out called WORM ON A HOOK! He has been reviewing movies since 1999 and is the author of the film criticism books Seagalogy: A Study of the Ass-Kicking Films of Steven Seagal and Yippee Ki-Yay Moviegoer!: Writings on Bruce Willis, Badass Cinema and Other Important Topics as well as the crime novel Niketown.