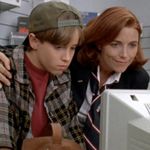 GHOST IN THE MACHINE is the second movie directed by Rachel Talalay, a behind-the-scenes New Line Cinema person who went from assistant production manager on A NIGHTMARE ON ELM STREET to production manager on part 2, line producer on part 3, producer on part 4 and then director and story provider for FREDDY'S DEAD: THE FINAL NIGHTMARE. She followed that with this and then TANK GIRL and now she's a very successful TV director who has done Supergirl, The Flash, Doctor Who, Sherlock, etc.
Back in 1993 when this came out I knew she was the FREDDY'S DEAD lady but I thought this looked really stupid: a dead killer's soul gets into a computer and he can control machines? How does that make sense? Finally watching it 23 years later it turns out I was right, it is pretty stupid, and it doesn't make much sense. But it was worth my time.
Terry Munroe (Karen Allen rocking Dana Sculley hair) happens to catch the eye of a serial killer (Ted Marcoux, DARK BLUE) shortly before he gets into a car accident (he giggles as his car slides upside down through a graveyard) and then is getting an MRI when there's power surge and becomes a GHOST IN THE MACHINE(s). In my opinion MRI technology has gotten worse, because he gets scanned and given great power in less than a minute. Mine took a couple hours, cost me $6,250 and still didn't make me into a magical being living inside computers and appliances. (read the rest of this shit…)
VERN has a new action-horror novel out called WORM ON A HOOK! He has been reviewing movies since 1999 and is the author of the film criticism books Seagalogy: A Study of the Ass-Kicking Films of Steven Seagal and Yippee Ki-Yay Moviegoer!: Writings on Bruce Willis, Badass Cinema and Other Important Topics as well as the crime novel Niketown.