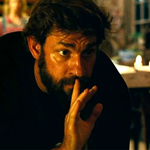 A QUIET PLACE is a really effective monster movie that goes a long way just on the strong execution of a simple, cool premise. 89 days ago as of the opening scene, civilization as we know it ended under the sharp teeth of some GREAT WALL-esque man-eating monsters. They're blind, but they have great hearing and they run fast, so they'll zip in and munch on anybody who makes any kind of noise. That could be some librarian's bedtime story to keep the kids in line, but it feels a little more like THE ROAD or something.
We follow a family who have already developed methods to survive in this dangerous new reality. They live on an isolated farm, they speak in sign language. Their daughter (Millicent Simmonds, WONDERSTRUCK) is deaf, so she's good at being silent, but of course she doesn't necessarily hear if there's a monster behind her or someone else is making a sound that's gonna attract one. They've developed warning systems involving lights, torches that seem to communicate with other survivors (though we never see them) and various emergency backup plans. When they need to go into town to scavenge they walk barefoot on trails of sand (I wonder where they got all that from?) It shows just how serious this is, and how much work they have to put into it, and also it's a cool visual. (read the rest of this shit…)
VERN has been reviewing movies since 1999 and is the author of the books SEAGALOGY: A STUDY OF THE ASS-KICKING FILMS OF STEVEN SEAGAL, YIPPEE KI-YAY MOVIEGOER!: WRITINGS ON BRUCE WILLIS, BADASS CINEMA AND OTHER IMPORTANT TOPICS and NIKETOWN: A NOVEL. His horror-action novel WORM ON A HOOK will arrive later this year.