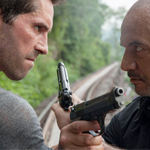 It's weird that they would make a HARD TARGET 2, huh? I mean, it's a DTV sequel, and the kind that doesn't have any of the same actors or characters, just the title and the premise. But the part that surprises me is that it means the Master Control computer and its algorithms have figured out that we love HARD TARGET, that it's a title that means something to us. I hope HARD BOILED isn't next. Maybe STONE COLD would be okay though if they did it right.
Anyway, they went ahead and made it, so I'm glad they got a solid group of people working on it. The director (and also director of photography) is Roel Reine, helmer of such enjoyable DTV part 2s as DEATH RACE, THE MARINE and THE MAN WITH THE IRON FISTS, and he filmed it in Thailand, where he has alot of experience. The script is credited to the relatively unknown Matthew Harvey & Dominic Morgan (FUTURESHOCK: COMET, one episode of Taggart), but a press release also named George Huang, the director of SWIMMING WITH SHARKS. (Not a shark movie. Ask somebody who was into film in the '90s.)
In the lead is our greatest modern action star, Scott Adkins. He does not sport a mullet or Cajun accent, and he's not playing Chance "My Mama Took One" Boudreaux or his son Fingers Crossed Boudreaux or anything like that. He's Wes "The Jailor" Baylor, rising MMA star exiled to an underground fighting circuit in Thailand after accidentally killing his best friend in the ring. (read the rest of this shit…)
VERN has a new action-horror novel out called WORM ON A HOOK! He has been reviewing movies since 1999 and is the author of the film criticism books Seagalogy: A Study of the Ass-Kicking Films of Steven Seagal and Yippee Ki-Yay Moviegoer!: Writings on Bruce Willis, Badass Cinema and Other Important Topics as well as the crime novel Niketown.