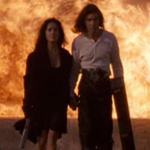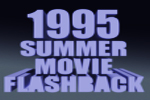 DESPERADO is my favorite Robert Rodriguez movie. People will always say the scrappy, home-made, subtitled EL MARIACHI is better, and a strong argument could be made for FROM DUSK TILL DAWN, with its Tarantino script and movie-star-making performance by George Clooney. But to me DESPERADO is his purest expression, the full enthusiasm of a young, hungry Hollywood rookie high on spaghetti westerns, John Woo and what his new friend QT was up to, fired into a full-blooded action movie uniquely based in Mexican culture.
The Tarantino influence shows in the talky opening with Steve Buscemi as the Mariachi's hype man/street team, loudly telling tall tales about him in a bar, and in the scene where Tarantino himself plays a criminal telling a long-winded joke about peeing. But otherwise this has an identity very different from the wave of '90s crime films, one that's more visual and musical. He uses lots of slo-mo and dissolve edits working in tandem with a driving Latin rock score by Los Lobos. This is just one example of how the fresh Hollywood hotshot used his newfound resources while insisting on doing it his way. Another is the casting of the leads. (read the rest of this shit…)
VERN has a new action-horror novel out called WORM ON A HOOK! He has been reviewing movies since 1999 and is the author of the film criticism books Seagalogy: A Study of the Ass-Kicking Films of Steven Seagal and Yippee Ki-Yay Moviegoer!: Writings on Bruce Willis, Badass Cinema and Other Important Topics as well as the crime novel Niketown.