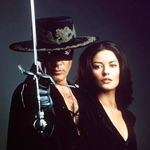 You know me, I love these modern (like, 1990s or later) takes on old timey adventure heroes. For example I enjoyed THE SHADOW, THE PHANTOM, THE LONE RANGER and THE LEGEND OF TARZAN, all of which were considered flops. I suspect the generation that was greenlighting these kinds of pictures is gone, and the tradition will die out, but I appreciate their contributions to my entertainment.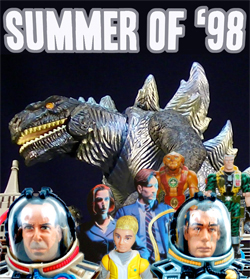 There's only one I can think of that was a genuine hit. THE MASK OF ZORRO opened at #1, made $250 million worldwide, even got a sequel. One of its biggest marks was making Catherine Zeta-Jones into a movie star. Obviously you and I already knew her as a villain who switches to the good guy side in THE PHANTOM, but executive producer Steven Spielberg (DEEP IMPACT) recommended her after seeing her in a Titanic mini-series. MASK OF ZORRO was the thing most people knew her from before ENTRAPMENT, THE HAUNTING, HIGH FIDELITY, TRAFFIC, CHICAGO, etc. For screenwriters Ted Elliott & Terry Rossio (SMALL SOLDIERS), who are credited alongside John Eskow (PINK CADILLAC, AIR AMERICA) and Randall Jahnson (DUDES, THE DOORS) it was the prototype epic-period-adventure-movie template they would use for four PIRATES OF THE CARIBBEAN movies and THE LONE RANGER.
As far as I know nobody ever talks about THE MASK OF ZORRO anymore. But they should. It's fucking great. (read the rest of this shit…)
VERN has a new action-horror novel out called WORM ON A HOOK! He has been reviewing movies since 1999 and is the author of the film criticism books Seagalogy: A Study of the Ass-Kicking Films of Steven Seagal and Yippee Ki-Yay Moviegoer!: Writings on Bruce Willis, Badass Cinema and Other Important Topics as well as the crime novel Niketown.