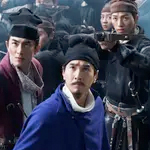 As much as I enjoyed the first two Detective Dee pictures (MYSTERY OF THE PHANTOM FLAME and RISE OF THE SEA DRAGON), the third one, DETECTIVE DEE: THE FOUR HEAVENLY KINGS, far surpasses them. It has the same kind of fun characters and storytelling, but the FX and design are much improved, it has more action and spectacle, and it's more packed full of weird factions and creatures with cool costumes and gimmicky weapons, often elegantly gliding around on wires. It's a total blast.
They've dropped the "Young" from the title, even though it's continuing the prequel story starring Mark Chao. I guess the moment he gets his rank and trademark weapon he becomes a man. That's where it starts: the end of RISE OF THE SEA DRAGON, with our hero receiving the Dragon-Taming Mace and the duty to keep the imperial court in check, at which point Empress Wu (Carina Lau, PROJECT A PART II, the only actor in all three movies) conspires to have the mace stolen from him. This is one thing I love in period martial arts movies: when a specific weapon is treated with reverence, even though it's just a piece of metal, not some doomsday device. There turns out to be a really good explanation for why she needs to get it away from him, but it wouldn't matter to me if there wasn't. All I need is that it's a legendary badass weapon like the Green Destiny Sword, so they can't let him have it. (read the rest of this shit…)
VERN has been reviewing movies since 1999 and is the author of the books SEAGALOGY: A STUDY OF THE ASS-KICKING FILMS OF STEVEN SEAGAL, YIPPEE KI-YAY MOVIEGOER!: WRITINGS ON BRUCE WILLIS, BADASS CINEMA AND OTHER IMPORTANT TOPICS and NIKETOWN: A NOVEL. His horror-action novel WORM ON A HOOK will arrive later this year.