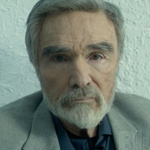 Let's say hypothetically you have a fondness for Burt Reynolds (HOOPER, CITY HEAT, regular HEAT, MALONE, UNIVERSAL SOLDIER II and III) but you find it depressing that circumstances have conspired to make his filmography this century include films like A MAGIC CHRISTMAS (as the voice of "Buster the Dog"), NOT ANOTHER NOT ANOTHER MOVIE, DELGO and Uwe Bolle's IN THE NAME OF THE KING: A DUNGEON SIEGE TALE. Well, then THE LAST MOVIE STAR is for you. Writer-director Adam Rifkin (THE DARK BACKWARD, PSYCHO COP RETURNS, THE CHASE, DETROIT ROCK CITY, writer of MOUSEHUNT and SMALL SOLDIERS) devised the movie as a love letter to Burt's career and a chance to show that he's a legit actor. He wrote it for him and told him he would only make it with him. I think he hoped it could be a career reviver or re-contextualizer like LOST IN TRANSLATION or something.
I guess it's too late for that, because it's out on video today and you probly never heard of it. But it kinda fits the subject matter to be a shabby little obscurity getting by on alot of heart. See, Burt plays 80 year old former six-years-in-a-row box office champ Vic Edwards. He still has money and a nice house, but he lives alone, hobbles around like he's someone who won't be walking for long, and people barely look at him anymore. He's like a super hero who's lost his powers. He can't get what he wants by strutting around and smiling at women. He's much more likely to creep them out than impress them.
The movie opens with a real clip of handsome, charming young Burt on TV telling a funny story, casually taking in the adulation of the audience, then smash cuts to Vic skinny and wrinkled and having to put his dog to sleep. (read the rest of this shit…)
VERN has been reviewing movies since 1999 and is the author of the books SEAGALOGY: A STUDY OF THE ASS-KICKING FILMS OF STEVEN SEAGAL, YIPPEE KI-YAY MOVIEGOER!: WRITINGS ON BRUCE WILLIS, BADASS CINEMA AND OTHER IMPORTANT TOPICS and NIKETOWN: A NOVEL. His horror-action novel WORM ON A HOOK will arrive later this year.