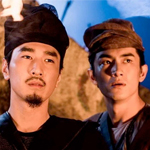 Before Regular Age Detective Dee, it only stands to reason, there was Young Detective Dee. Three years after Tsui Hark's crowd-pleasing supernatural action mystery blockbuster DETECTIVE DEE AND THE MYSTERY OF THE PHANTOM FLAME he recast with Mark Chao (THE WARRIOR'S GATE) in place of Andy Lau and gave us a case from early in his career: YOUNG DETECTIVE DEE: RISE OF THE SEA DRAGON.
As the title implies, it starts with some kinda kraken. I have too much respect for you to make a pun out of that. But you can imagine one. Something attacks the Chinese navy, they think it's a sea monster, so obviously
1) they're gonna sacrifice Yin Ruiji (Angelababy, INDEPENDENCE DAY: RESURGENCE) to the monster and
2) Empress Wu (returning Carina Lau, SHE SHOOTS STRAIGHT) threatens to execute Yuchi (Feng Shaofeng, THE MONKEY KING 2 and 3) if he doesn't figure out who attacked the fleet in ten days. Kind of a tough boss. (read the rest of this shit…)
VERN has a new action-horror novel out called WORM ON A HOOK! He has been reviewing movies since 1999 and is the author of the film criticism books Seagalogy: A Study of the Ass-Kicking Films of Steven Seagal and Yippee Ki-Yay Moviegoer!: Writings on Bruce Willis, Badass Cinema and Other Important Topics as well as the crime novel Niketown.