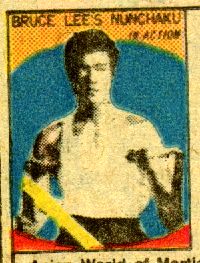 Okay, how should I explain this? Here goes.
I have a new bi-weekly column called Profiles in Bad-Ass on the freshly launched websight REBELLER. The first one is up and it's trying to address something that I'm sure you know is important to me: that everybody knows who Bruce Lee is but many haven't experienced the joy of actually sitting down and watching his movies.
In future installments I plan to provide similar overviews of the work of icons from different eras of badass cinema, the types of things I've written about extensively here, now in a more generalized and concise format to spread the good word to other corners.
I guess it won't be the audience I thought, because I didn't realize it would be behind a paywall. You have to sign up and then you can get 3 free articles a month, or pay $20.20 for a year of access to everything. I feel a little weird about that but it makes sense – we've seen that the high profile websights that actually pay their writers can't sustain on popup ads. Also, I once had a somewhat similar column in a print magazine called Clint, and somebody would've had to get a much more expensive subscription to read all of those. (read the rest of this shit…)
VERN has been reviewing movies since 1999 and is the author of the books SEAGALOGY: A STUDY OF THE ASS-KICKING FILMS OF STEVEN SEAGAL, YIPPEE KI-YAY MOVIEGOER!: WRITINGS ON BRUCE WILLIS, BADASS CINEMA AND OTHER IMPORTANT TOPICS and NIKETOWN: A NOVEL. His horror-action novel WORM ON A HOOK will arrive later this year.