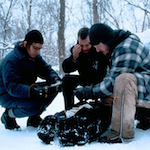 "You work for the American dream. You don't steal it."
"This is even better."
A SIMPLE PLAN is the first Sam Raimi movie not to be easily recognizable as a Sam Raimi movie. It even has a Danny Elfman score that's not recognizable as a Danny Elfman score. It's a grim, uncomfortable neo-noir, stylistically subdued, what little humor it has dry enough that it likely doesn't register with everybody. If anything, it seems most akin to BLOOD SIMPLE by Raimi's former roommates/CRIMEWAVE co-writers/DARKMAN cameo-ers the Coen Brothers, transplanted to a snowy Minnesota environment more like FARGO.
Like THE QUICK AND THE DEAD it was a for-hire project, but this time he didn't want it to feel like any of his other movies. He and cinematographer Alar Kivilo (THE LOOKOUT) agreed that the camerawork should be simple, "invisible," basically the opposite of what everyone loves about his earlier films. I don't advocate doing that all the time, or even often, or honestly ever again, but here it definitely works for him. (read the rest of this shit…)