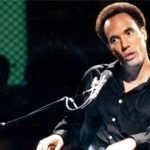 PANTHER reminded me of one of the few Spike Lee movies I hadn't seen, the 2001 made-for-cable A HUEY P. NEWTON STORY. When it comes to the Spike Lee Jointography there are three categories. There's the main ones you think about – DO THE RIGHT THING, MALCOLM X, all the way through his recent OLDBOY remake. And sprinkled in between are the documentaries, often made for cable. They're less widely seen, of course, but really good, movies like FOUR LITTLE GIRLS and WHEN THE LEVEES BROKE. But even rarer than that there's the performance films. I gotta admit I haven't gotten to most of these. PASSING STRANGE was one, that's a Broadway musical. I did see ORIGINAL KINGS OF COMEDY. That was pretty good.
A HUEY P. NEWTON STORY, A SPIKE LEE JOINT is a filmed version of a one-man show that Roger Guenveur Smith did starting in 1996 at the New York theater where Hair started.
I don't know if you know who Smith is. He's gotta be best known for playing Smiley in DO THE RIGHT THING, so I'm sure people walk up to him on the street every day and say "M-M-M-Martin. M-M-M-Malcolm." He's actually been in several Spike Lee movies, he was on Oz I guess, he was one of the stars of Steven Soderbergh's improvised lobbyist drama K-Street on HBO. But also he was the bad guy in Seagal's MERCENARY FOR JUSTICE.
He's an actor I've always liked, but I could understand if you didn't. He has a very theatrical style. He's a character actor but he likes to show off. He always carries around a little stick of scenery in his pocket to chew on. MERCENARY FOR JUSTICE is an example of him getting a little loosey goosey with the accents. (read the rest of this shit…)