May 17, 1991
On this day, Craig R. Baxley's STONE COLD starring Brian Bosworth opened. It's genuinely one of my favorite movies, which is why I reviewed it in 2005 and then again in 2007 when it first came to DVD and then again in 2015 when One Perfect Shot published my piece Strictly Bozness: The Fiery Majesty of 'Stone Cold'. And I admit it would've been pretty fuckin cool for me to somehow squeeze yet another piece out of it for this series, but I did not. Instead, please read Strictly Bozness and then we'll move on to another May 17th, 1991 release that is seriously lacking in motorcycle-on-helicopter violence, among many other failings.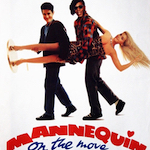 I don't want to disappoint anyone, but it is a fact that the sequel to MANNEQUIN – part two #2 of Summer 1991 – is called MANNEQUIN: ON THE MOVE. There is no number in the title. The video covers have it as MANNEQUIN 2: ON THE MOVE and the theatrical poster says MANNEQUIN TWO: ON THE MOVE (important for "on the move" to be underlined) and I'm a fan of sequels that spell out their numbering, but I try to stick to on screen titles only. So really the MANNEQUIN franchise saga of properties understood it was the '90s and that pretty soon it would be in vogue to drop the numbers and just use subtitles (HELLRAISER: BLOODLINE, ACE VENTURA: WHEN NATURE CALLS, THE LOST WORLD: JURASSIC PARK, etc.)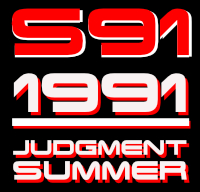 It's not like a road trip or chase movie or anything, it's more of a rehash but, do you get it though? It's ON THE MOVE because mannequins normally don't move but this one moves so it's on the move. That's why it's a good title.
Note: I did watch the first MANNEQUIN (1987) in preparation for this, did not feel I had a full review's worth of thoughts on it, and had almost completely forgotten it a week later when I watched this. So forgive me if I mix up any of the Mannequinverse mythos.