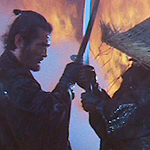 GOYOKIN is the seventh movie from Hideo Gosha, the director who started with THREE OUTLAW SAMURAI and SWORD OF THE BEAST. So he'd been around a bit by that point. It was 1969, the hippie era over here, but questioning authority was part of the samurai movie tradition anyway. The heroes follow a strict code and usually have to deal with some government asshole trying to pervert it. They struggle when there's a discrepancy between following the rules and doing the right thing. And they always have differing interpretations of what those two things are. But this one seems particularly fitting for a couple summers after the summer of love, because it's about one man who feels he must stand up against the power structure to stop an atrocity.
It starts with a mysterious incident. A girl returns home to her village to find that everyone has disappeared. Nobody there but her and the crows. They blame it on a curse called the Kamikakushi, but in fact it was a government sanctioned massacre. Some Waco shit. The Saido province feels they have to steal a shipment of gold in order to pay their taxes and survive, and they kill the local fishermen so there aren't any witnesses. They feel it's a necessary sacrifice for the greater good.
Three years later the ronin Magobei (Tatsuya Nakadai, YOJIMBO, THE SWORD OF DOOM, RAN) still regrets not trying to stop the slaughter. His brother-in-law Tatewaki (Tetsuro Tanba, THREE OUTLAW SAMURAI, RIKI-OH), the guy in charge, vowed to never do it again. But when assassins come to kill Magobei (they fail) he finds out it's a precursor to another one. Clearly this stolen gold economics is not very sustainable in my opinion.
Magobei's not gonna make the same mistake he made last time. He's gotta stop this massacre or die trying. So he puts on his cool hat and starts walking. (read the rest of this shit…)