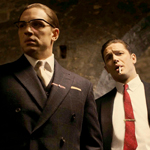 I always have hope for Brian Helgeland movies. It doesn't matter how many times I don't like his latest as much as I like PAYBACK, I keep having expectations. He also wrote A NIGHTMARE ON ELM STREET 4, ASSASSINS and BLOOD WORK and won that Oscar for L.A. CONFIDENTIAL, but PAYBACK is the Platonic ideal I keep coming back to.
Fairly or not, I associate Helgeland with that Richard Stark feel, that clean, precise storytelling, writing with a badass swagger, no need for fancypants show off business. His new one LEGEND is about London gangsters Reggie and Ronnie Kray (see THE KRAYS review from yesterday) in the early '60s. Being based on real crimes stretched across a couple years doesn't lend itself to that type of tight plotting, it's more of a character study and relationship drama. But it is a little bit like PAYBACK (theatrical cut) in tone. It follows a charismatic criminal anti-hero who is funny, badass, and a terrible person. It's darkly humorous, and violent, and set to alot of good soulful music (Booker T and the MGs, The Meters, Young-Holt Unlimited).
I guess it would be accurate to say it's kinda Guy-Ritchie-esque, but I liked it more than some of those. It's Guy-Ritchie-esque only in a good way.
Like Peter Medak's take on the story, THE KRAYS, this one is told in first-person narration by a woman. But this time it's not their mother, it's Reggie's poor wife Francis (Emily Browning from SUCKER PUNCH). The story focuses on Reggie and his relationship with Francis, with the crazier brother Ron as sort of a side character and threatening presence who's always out there and liable to start trouble. Like if Jaws was your twin brother. (read the rest of this shit…)