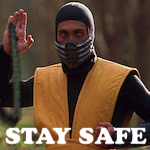 Hello, friends! Shit is crazy right now. I hope everybody is looking after their health and sanity. I know many, most, maybe all of us are or will soon be spending more time inside at home, in many cases away from friends and family. But I consider you all friends and family, so I thought it would be a good time to bring back one of these threads where everybody talks about whatever-the-fuck. Updates on your local situations, what you've been watching, random escapist nonsense, whatever.
Somehow while mostly staying in I've still gotten behind in my writing. That will change soon. As of Monday I'm still working a day job, but shifting to a different phase with drastically fewer hours. That's what I want, so I can stay indoors for now and not have to take the bus as much. They've been mostly empty, but I don't need that stress. I'm not sure how long even that will last, because there's been pressure on our governor to add more severe measures to keep people home.
I appreciate everybody commenting on old reviews of the things you've been watching, but if none of those apply, here's a good place to congregate (six feet apart, please).
This entry was posted on Sunday, March 22nd, 2020 at 10:23 am and is filed under
Blog Post (short for weblog)
. You can follow any responses to this entry through the
RSS 2.0
feed. You can skip to the end and leave a response. Pinging is currently not allowed.