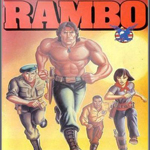 As John J. Rambo may or may not have shed his last blood on cinema screens, perhaps it's a good time to remember him in all his glory when he had been pardoned by the president and was free to hang out with his pals like Turbo and Touchdown, fighting mostly non-lethal battles with the mercenaries, bikers and cyborgs of the S.A.V.A.G.E. terrorist organization. That's why I watched and wrote about "First Strike," the first episode of the 1986 cartoon series Rambo: The Force of Freedom.
MAY THE FORCE OF FREEDOM BE WITH YOU
As always, thanks to everyone who has been able to support the Patreon. That extra monthly check has improved both my life and my writing by allowing me to work fewer shifts of the day job and focus on the good shit here. I hope the quality of the reviews here as well as the bonuses over there like the TWILIGHT series help to express my gratitude.
This entry was posted on Saturday, September 28th, 2019 at 12:28 pm and is filed under
Blog Post (short for weblog)
. You can follow any responses to this entry through the
RSS 2.0
feed. You can skip to the end and leave a response. Pinging is currently not allowed.