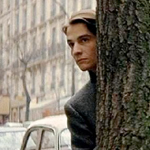 STOLEN KISSES – or as I would have retitled it, 400 BLOWS III: THE SHADOW AGENDA – is the story of Antoine Doinel, an ex-military private eye hitting the streets for a case that will change everything. Or whatever.
This is the one that brings Antoine into the worlds of adulthood and color photography. It's also the most Cannon-like so far because it opens with him as a soldier in an army jail, much like Joe Armstrong found himself in AMERICAN NINJA, except he's reading The Lily In the Valley to show off that he loves books and instead of getting out when ninjas come to attack him the guards just let him out and he's told he's being kicked out of the army.
In real life Truffaut, after being rejected by the girl who Colette was based on in ANTOINE AND COLETTE, attempted suicide, then joined the army, deserted, went to military prison, etc. So this is autobiographical again.
Antoine can't hold in all his impish smiles as the commanding officer reads the list of every place he went AWOL and lectures him for willingly enlisting but then not even trying to do a good job. This is not a "punched out the commander for giving him a command he couldn't follow" type of situation. No, he just sucks at his job. (read the rest of this shit…)