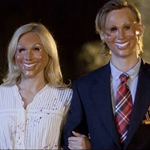 What if in the near future "unemployment is at 1%, crime is at an all time low, because one night a year" – on March 22nd, for a 12 hour period – "ALL CRIME IS LEGAL!"
You know, everybody gets all their rapes and murders out, everybody does their shoplifting and meth dealing, and public defecating and car theft and kidnapping and arson and all that, just let it loose on that day and unless you want to beat someone's face in with a crowbar or jack off in front of your neighbors you just stay indoors and out of trouble. And all because of that 12 hours of mayhem the rest of the year the streets are so clean Paul Kersey could eat off 'em!
Other than on March 22nd, llife would be so much better. And we must consider the value of this trade off. Would an almost-year of peace be worth the dangers and moral complexities of that one day? Thinking about THE PURGE you can't help but consider the ramifications of trying something like this, 'cause it would obviously work, right? Why haven't we done this?
Admittedly I have some questions. Are people really goonna postpone all their crimes of passion until that period? Can serial killers hold it in that long? Do mentally ill people know how to schedule when to snap? Can the drug trade get all their work done in one day a year? And what are they gonna do with their 364 day weekend? (read the rest of this shit…)