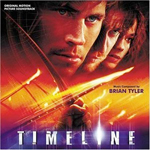 Our ridiculously dedicated outlawvern.com programmer, Clubside Chris, has been working on a new way to browse my old reviews: the Timeline. You can access it through that link there or you can find it by clicking Home>All Reviews>Reviews (Timeline) in the menu bar at the top there. Check it out – it lets you flip through all the reviews in order by release date, so if you're interested in a specific time period you can see how well I've covered it. I'm amazed to have anything this slick on here. It's pretty cool.
It's still a work in progress, but he has the reviews of '99-'01 and '12 sewn up. There are more than 500 reviews in there and Chris would appreciate some feedback on performance. So let him know in the comments here what you think and if you have any problems using it.
Meanwhile, Chris says he's located 16 Ain't It Cool reviews of mine that were missing from the archive. I had no idea. If you happen to remember any others that you read on there but could never find on here, please let us know.
Also I'd like to point out that at Home>All Reviews>DTV Reviews (Years) Chris has put my reviews of DTV movies in chronological order. I love it because it's helping me to see the bigger picture of the history of DTV.
thanks as always to Chris and thanks to anybody who helps him out with feedback