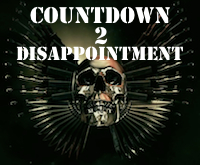 Jean-Claude Van Damme is the most important new Expendables cast member. Even not having seen it yet we know this because he's the main villain, because he gets an "also" credit and because he's Jean-Claude Van Damme. So to honor his new role I was excited to go back and watch one of his early movies that I haven't seen. I was surprised to realize BLACK EAGLE was the only 20th century Van Damme movie I hadn't seen. I'd have to go up to some of the DTVs starting in 2002 to get to anything else new to me. I was better versed than I realized, but I didn't know anything about this one.

An American jet goes down outside of Malta and some Russians are gonna steal some kind of laser tracking device that's onboard. They gotta be stopped because of communism or whatever, and the CIA or somebody knows there's only one man for the job: code name Black Eagle. He's out fighting with the Mujahadeen it looks like, and it oughta be easy to convince him to go do a mission somewhere where there's water, but the problem is he's about to go on his 2 weeks of vacation he gets each year to see his two sons.
It's okay though, he'll do it, 'cause he doesn't have a choice. Two other agents are assigned to pick up his boys at the airport and bring them to Malta. He never taught them about stranger danger, I guess. They're already there bored out of their minds touring museums, so Black Eagle's gotta go meet them there.
One thing you should know about Black Eagle: he's not played by Jean-Claude Van Damme. He's played by Sho Kosugi, who's the star of the movie. Don't listen to that DVD cover, that guy's full of shit. Also he never has that eagle tattoo or the ENTER THE DRAGON facial cuts, I don't think.
Jean-Claude Van Damme is… ANDREI: ONE OF THE GUYS WHO OPPOSES BLACK EAGLE.
Ah, shit, that's why I hadn't heard of this one. But it's fitting, as Van Damme plays a villain this late in his superstardom, to go back to when he had to play villains to get into movies. At this point he'd done NO RETREAT, NO SURRENDER and BLOODSPORT, so he had more villain roles than leads.
But Sho Kosugi played alot of villains too. I know him mainly from playing scary, mysterious ninjas, so it's cool to see him as the leading man hero. He's definitely got ninja training but he's supposed to be an American secret agent, so he has a mild mannered disguise and everything. He wears nerdy glasses to pose as a scientist. Kosugi's real life sons Shane and Kane play his boys, and when they're together they look like a dorky tourist family. (One of the kids does get to do a back flip and a little bit of fighting, but mostly they're treated just as normal kids.)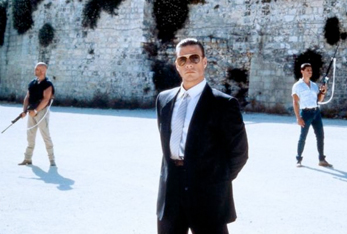 Van Damme's character is pretty minimalistic, but also pretty cool. He wears a suit and sunglasses and stands very upright and doesn't have much dialogue. It's a pretty typical type of action movie bad guy, where they hire a scary looking martial artist or bodybuilder just for his menacing look and purposely don't give him much dialogue to stumble over (think for example Chuck Norris in WAY OF THE DRAGON). But then, unexpectedly, this Andrei character is not totally evil.
He only starts to talk when he makes chit chat with a lady on the boat. He's falling for her. They start being together in all their scenes. After they get shot at she freaks out. Normally this type of character would slap her or tell her to shut up, but he gently embraces her and says, "Relax. Don't panic."
In the end, it's the girl calling his name that distracts him so that Black Eagle kicks him in the head to win the fight. He's both a lover and a fighter but ultimately less of a fighter because he's such a lover.
He does the splits twice: once between two oil barrels on a boat while demonstrating his knife-throwing skills for the fellas, once to dodge a punch from Black Eagle. He has three fights with Sho Kosugi, all of them kinda fun but none of them great. Van Damme is in great shape but is not yet a veteran of screen fighting, so alot of the time it's pretty obvious he's not hitting people hard.
At the end of the second fight, Black Eagle points at Andrei and then dives off a cliff. I don't know if the pointing means "You… you rascal!" or "Hold that thought… to be continued" or what. But I love it.
I like that everybody's kind of there against their will. Black Eagle just wants to be with his boys, he didn't want this mission. The boys hate it there and want their dad to have time for them. There's a former agent turned priest who gets pressured to come on the mission as a marine biologist even though he wants to stay out of the business. Andrei probly wants to run off with this girl but he keeps getting chewed out by his boss. Both sides are trying to do the right thing for their country.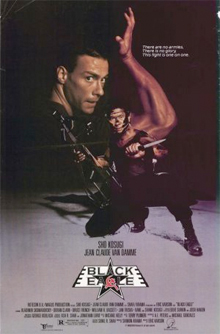 This seems like it's trying to be more of a spy thriller than an '80s action movie, even though it was made in '88. Black Eagle is the kinda character who goes up onto a cliff and puts together a hang glider and flies it and the music plays as there's hang gliding footage. Not the kind of guy who shoots somebody and then makes a joke about it. And the score by first timer Terry Plumeri (DEATH WISH V: THE FACE OF DEATH) is kinda classy, sounds like a legit '70s suspense thriller.
But the movie's not that exciting until toward the end when he decides "Fuck this. I'm a ninja." He disappears from sight as a truck is passing. Next thing you know he's posing in silhouette on top of a pile of rocks, rubbing himself with black paint and putting on a headband, as men do.
Director Eric Karson also did THE OCTAGON and ANGEL TOWN, and he was a producer on one of my favorite Van Damme movies, LIONHEART.