Here's a not-perfect but surprisingly enjoyable family sports robots drama from the visionary director of, to be frankly honest, CHEAPER BY THE DOZEN (remake) and THE PINK PANTHER (remake) and a bunch of other shit like that. Obviously the title is a cheap stunt, they're trying to make you think Shaquille O'Neal is in it, so please spread the word that that's not the case. It's also not officially based on the beloved intellectual property Rock 'Em Sock 'Em Robots, even though it's about boxing robots. It's credited as being partly based on a Richard Matheson short story called "Steel" (also turned into a Twilight Zone episode starring Lee Marvin), but I say it's suspiciously similar to Menahem Golan's OVER THE TOP.
Hugh Jackman plays Charlie, an ex-boxer in the near future who owes a bunch of people money and travels around with a beat-up robot in a truck that he remote controls to fight bulls at rodeos and shit like that. He's one of those charming underdogs that used to be the greatest but now he's washed up and behind on rent and he makes bets with money he doesn't have and gets himself into trouble but you love him anyway. Oh yeah, also he's a deadbeat dad who doesn't even know how old his son Max (Dakota Goyo) is. When he finds out the kid's mom died and her sister (Hope Davis) wants custody of the kid he makes a deal to get paid off for it. He sells his son, basically. What a scamp.
But first he has to watch the kid for about a month. The kid who plays Max looks kinda like little Anakin Skywalker, but his acting is a little more natural. Of course he (correctly) hates his dad at first, but he knows alot about robot boxing so he gets involved in his dad's work. They find a shitty old practice dummy robot in a junkyard that the kid insists on pimping out and grooming into a champion. I won't give away if it works or not. I doubt they have much success with it, I mean it's so old and nobody believes it has a chance.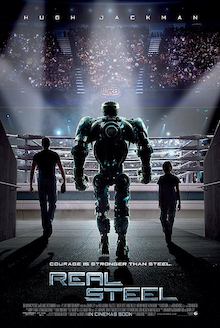 Of course the fun of the movie is that it has all the sports movie cliches, but with added robot. There's the underground unsanctioned bouts where they earn cash and build a reputation, the unscrupulous former rival that comes after him, the exhausted woman who puts up with his shit and believes in him, the unbeatable champ with all the resources in the world (the Ivan Drago of robots), the commentators who help turn the underdog into a folk hero, and I guess the final bout is based on the one in ROCKY. There are training montages (kid teaches robot how to punch) although they are sorely lacking in Survivor-style inspiration rock.
I thought the robots looked dumb in the trailer, but I liked them in the actual movie. They look just as real as the ones in the TRANSFORMERSes, but without all the ten thousand useless doodads all over them, so they are actually something the human eye enjoys looking at. They're shaped like humans and have discernible arms, legs and heads. The main robot, Atom, has an appealingly simple face: basically a fencing mask with two lights behind it for eyes, and a dent that implies a smile.
One thing that's not what I expected: the robots are just remote control toys, basically. They're not alive, it's the programming and commands of their owners that makes them good in the ring. So when they get literally torn apart it's only as sad as wrecking your car. There is a weird thing where Max seems to think the robot is alive, but it doesn't really come up again. Which is kind of nice. It sticks to the relationship between the father and son and doesn't turn into an E.T. ripoff or anything.
That relationship is the heart of the movie but also the movie's biggest weakness. Obviously Charlie is supposed to be a screwup and you're supposed to root for him to straighten his life out, but I feel like he's way more of a scumbag than the movie acknowledges. After he shirks his responsibility as a father ("I just freaked out" he explains) and then sells his own son, he takes him trespassing in a junkyard. When the kid falls into a huge pit and only survives through sheer luck Dad makes sure he's alright, hugs him, then chastises him 'cause he told him to be careful about standing on a cliff. But you're the one that fucking took your kid next to a cliff, asshole.
Also, not to get into an animal rights debate, but I feel like you shouldn't build a huge robot and use it to punch a bull in the head. That seems cruel. What the fuck did the bull do?
But at the end they leave things up in the air, they don't say he gets to keep the kid or anything, so I appreciate that. It draws the line at a certain amount of bullshit.
I have a hard time buying this sport. If you're gonna build robots and have them fight why limit them to boxing rules? It seems like they should take advantage of not being human, they should be allowed to do way more damage on each other, and they should be in a setting where they can fly around and smash through things and shit. They even talk about how the sport evolved because people wanted more and more violence and the humans couldn't do it anymore. I decided to read it as a commentary on how these sorts of things get compromised over time, like how the original "there are no rules!" UFC tournaments slowly evolved into sanctioned matches with weight classes and all kinds of rules. That would be kinda cool if that was what it was saying, because it's the opposite of the usual futuristic sports (Rollerball, Death Races, The Running Man, etc.) that are all about maximum violence.
There are problems with it, but it's better made and more enjoyable than the ol' auteur theory had me expecting. I guess that's why it's only a theory. There are enough good choices made for REAL STEEL to satisfy those of us who like Hugh Jackman playing Clint Eastwood while robots punch each other.
This entry was posted on Wednesday, February 22nd, 2012 at 3:04 am and is filed under
Family
,
Reviews
,
Science Fiction and Space Shit
,
Sport
. You can follow any responses to this entry through the
RSS 2.0
feed. You can skip to the end and leave a response. Pinging is currently not allowed.