You know when you got a relative who thinks you're into, say, motorcycle races or whatever, so every time they find a newspaper article that has a motorcycle in it they clip it out and send it to you? And you don't really feel like you need to read about "Motorcycle Trail raises money for scholarships" or "Harley-Riding Lawyer Part of Biker Group That Helps Abused Pets," but it's kind of sweet anyway? Well, that's gonna be me right now, I am that relative for you guys.
But this is one clipping that's gonna bring us closer together. You know how some of you guys love comics strips and cartoons? And you know how we all love the movie BLACK DYNAMITE? Trust me, this is going somewhere, these two things are gonna connect together somehow, you'll see when you click to the rest of the article. THis is gonna blow your fuckin mind right out the back of your fuckin mind container.Well BLACK DYNAMITE is gonna be a cartoon and also a comics book. BOOM, you guys look like you saw a ghost. Let's everybody calm down okay. Let's just relax and let this soak in.
The cartoon was already announced before, I believe it's being done by the same people who did the cartoons on the end credits of the movie. It will be for the Adult Swimming channel that I sometimes watch "The Boondocks" on and it turns out it has one of the same producers, Carl Jones.
I never heard this one though, it turns out they're also doing a special one time issue of a Black Dynamite comic strip book. It's called "Black Dynamite: Slave Island," story by the the same writers as the movie, Michael Jai White, Byron Minns and Scott Sanders. Sanders says it " follows our hero as he seeks to put an end to a mysterious island… where an insidious 19th century legacy of The Man still exists."
Sanders sent out an email about this and to let people know he's gonna be showing the movie and some cartoon clips at "New York Comic Con" next month, if any of you are into that sort of thing. Here's the info:
———————————————————————–




Screening of BLACK DYNAMITE

Saturday, October 9

8:00 PM

Hosted by Ape Entertainment and Ars Nova




Saturday, October 9

Immediately preceding the BLACK DYNAMITE Screening

Featuring Scott Sanders, Adrian Younge and Andre Torres (Wax Poetics)

**SNEAK PEEK**

:  

First look at clips from the

upcoming

Black Dynamite: The Animated Series 

on

[adult swim]

———————————————————————–

All attendees will receive their very own Black Dynamite: Slave Island preview book, written by Brian Ash (The Boondocks), with inks by Jun LoFamia and featuring a special edition sketch cover by Ed Laroche.
Personally I will be more excited to see MJW return in a live action sequel to BLACK DYNAMITE or BLOOD AND BONE, but these could be fun and I support you nerds in your harmless enjoyment of these items. I gotta admit I was impressed by this non-cartoony drawing from the comic book: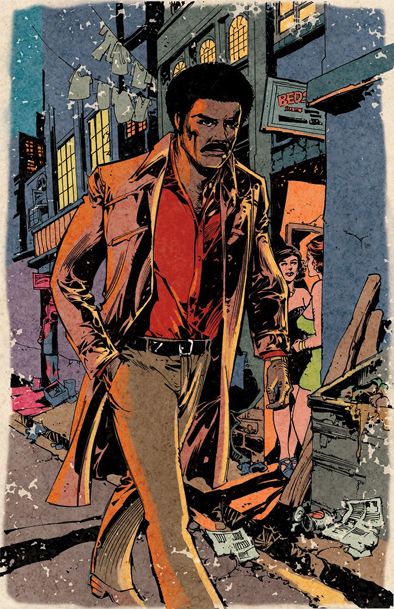 This entry was posted on Tuesday, September 21st, 2010 at 8:33 pm and is filed under
Blog Post (short for weblog)
. You can follow any responses to this entry through the
RSS 2.0
feed. You can skip to the end and leave a response. Pinging is currently not allowed.