As successful as they may be in their own countries, global superstars always seem to have their eye on the juicy, low-hanging grape of Hollywood. It doesn't matter how many soldiers have fallen before them, stumbling on a new language, style and approach to filmmaking and bleeding away everything that made them great in the first place. It's still hard to resist the temptation. They're still gonna jump and try to bite it.
And so it was that in the late '90s and early 2000s Jet Li left Hong Kong to make some Hollywood-produced, English language movies. Of course if you have a guy who's a legendary martial arts champion and iconic star of many of his generation's most popular movies (the SHAOLIN TEMPLE series, the ONCE UPON A TIME IN CHINA series, the FONG SAI YUK series, and FIST OF LEGEND) what you do in the U.S. is put him in a movie with DMX and Anthony Anderson that's billed as "an urban Romeo and Juliet." I mean, what else would you do with him? That's just obvious.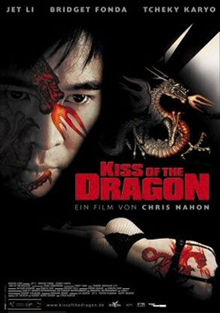 After the preposterousness of ROMEO MUST DIE a Jet Li movie produced by Luc Besson seems like a step in the right direction. Back then LEON wasn't so long ago, and he'd recently produced a pretty good action movie called TAXI. DISTRICT B13 and the TRANSPORTERs would be coming up soon too. As a director he had a strong visual style, a sense of humor and a love of Hong Kong style gunplay and physicality. It seemed like he could be the one to figure out how to make Jet Li shine in a Hollywood style movie, right?
Nope. Not really.
In ELV2(NCLW4) (English language vehicle #2, not counting LETHAL WEAPON 4) Li plays Liu Jian, a Chinese cop sent to Paris to help French cops spy on a Chinese gangster. But then a hooker stabs the gangster and it's a setup to frame Liu for the whole thing so he runs off.
The hooker has a big dragon tattoo on her back, by the way. She is The Girl With the Dragon Tattoo – not the famous one, but one of 'em. I assumed her stab was the titular Kiss of the Dragon, but then we don't see her character again. Luckily it's explained at the end what the title means. Phew, that was close.
But there was a second hooker named Jessica (Bridget Fonda) who was supposed to be there too. She got freaked out and hid in the bathroom. It turns out she works for Richard (Tcheky Karyo), the corrupt French police Inspector who set up Liu. To be frankly honest I do not care for this individual. He forcibly shoots Jessica up with junk and abuses his power to take away custody of her daughter and then wave it in front of her like a carrot on a stick. Or a cupcake or something if you are not a rabbit or deer and wouldn't get that excited about a carrot. On the positive side he has a pet turtle. (I try to have something nice to say about anybody.)
Coincidentally Jessica's prostitution spot is right in front of the shrimp chip shop where Liu is staying. Neither of them recognize each other from the hotel assassination incident. There's a really awkward scene where she wants to use the bathroom to pee but he thinks she's gonna shoot up in there so he says no but she threatens to piss on the floor so he lets her in and she passes out on the john and he scrambles to get her out of there because he's really worried that the guy that runs the place is gonna come home and get mad. At least it's something we can all relate to, but I think Jet's talents have been used for better scenes before.
Liu is no fan of junkies, but he's okay with needles. This character's most unusual trait is that he wears a wristband filled with pins. When he's in scuffles he'll pull one out and prick somebody with it. They might be poisoned but I think it's supposed to be accupuncture – he knows the right place to poke somebody to knock them out. Maybe a good badass juxtaposition for a character would be if they did needlepoint, like Rosey Grier. Then if somebody attacked them while they were sewing they'd have these needles, they'd know what to do.
I guess Bridget Fonda's days as a leading lady didn't last long, and this character was doing her no favors. I mean I feel sorry for her, I want Liu to help her get her daughter back, but she's kind of annoying. If I were Liu I'd have her wait somewhere while I took care of it. I don't know how intentional it is, but while she doesn't exactly look like the average hooker on the street she's got a certain amount of hooker nastiness that adds authenticity. I think the drugs would add more wear to her face, but at least they got a hooker with an addiction, that usually gets whitewashed in the movies.
Liu is very polite to Jessica, but he has a good mix of compassion and repulsion (repassion for short). Sometimes he seems like he doesn't want to even touch her because he'd have to wash his hands. I like that.
Liu has to prove his innocence and he simultaneously tries to get back Jessica's daughter who's been sealed away in an orphanage. The main henchmen that come after him are "the twins," two bleach-blonds in flight jackets. One is giant and the other, the little guy, is Cyril Rafaelli, the co-lead of the B13 movies (and henchman in LIVE FREE OR DIE HARD).
Since I knew Rafaelli from those other movies I waited in anticipation of him fighting Li. The first time it happens it's confusingly edited, a disappointment. Later there's another showdown between Liu and the twins and that one's got some good moments. A bunch of glass gets broken, then they get their hands scraped across broken glass. Rafaelli uses the famous Hong Kong "come here" hand gesture, which seems awfully cocky against Jet Li. The funny part is when he uses it but then Jet Li "come here"'s him back and they go back and forth for a while like "no, you come here." "No, you come here." "No, I'd rather you come here." etc.
There's also a pretty good battle on a boat, with Liu climbing on top and what not. It's not that spectacular of a stunt but it brings you back to the days when stunts were a big part of action movies.
Inspector Richard is similar to Gary Oldman's character in LEON. He's a sadistic and depraved criminal who gets away with everything because he's also a police inspector. But since he doesn't ever get mega like Oldman he's not nearly as fun to watch. The pet turtle really is a nice touch though. The difference between the hooker and the pimp is illustrated by the differences in how they treat the turtle: Richard puts the poor guy in a drawer, Jessica frees him on a lawn and says "See you around."
He's a hatable guy, but not a fighter, which makes him kind of a weird antagonist for a movie that's supposed to introduce Jet Li to a new audience. Luckily the titular sign of affection from a mythical beast makes for a deservingly brutal death for this guy. (SPOILER)
I didn't mind watching it once, but it's not very good. Li looks small and Pee-wee Hermanish. I thought it was his outfit in FIST OF LEGEND that looked like Pee-wee Herman, turns out it's his face and haircut too. This movie emphasizes the squeakiness of his voice (sometimes dubbed by another actor in his Hong Kong movies) and his limited English at the time, meanwhile not giving him a chance for fights as impressive or drama as effective as his best movies like FIST OF LEGEND. I think Besson got better at showcasing Li by the time of DANNY THE DOG/UNLEASHED and crazy action by the time of B13.
If KISS OF THE DRAGON was my first Jet Li movie I'd probly wonder what the big deal was. But it wasn't my first Jet Li movie so everything's cool. Don't worry about me, I'll be okay.
This entry was posted on Tuesday, April 26th, 2011 at 12:59 am and is filed under
Action
,
Martial Arts
,
Reviews
. You can follow any responses to this entry through the
RSS 2.0
feed. You can skip to the end and leave a response. Pinging is currently not allowed.