The year after FRIDAY THE 13TH PART 2 and THE BURNING and the year before SLEEPAWAY CAMP there was another summer-camp-slasher movie called MADMAN. It takes place on the last night at a camp for gifted children when a campfire story seems to summon an undead killer who proceeds to butcher the counselors one by one.
The head of the camp tells the killer's legend as a ghost story to scare the kids. His name is Madman Marz, he was a wife-beating alcoholic farmer who went nuts, murdered his wife and daughter, got hung for it but his body disappeared. On the other hand it's mentioned that he once got part of his nose bitten off in a bar fight and he didn't even notice. So that part of the story makes him sound pretty cool. We're all human, we have our good traits and our bad traits. Leatherface, for example, is very good at sewing.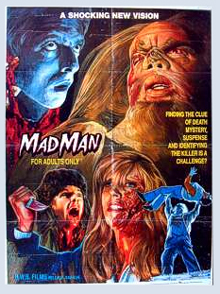 This is a cheesy movie that most people would make fun of. It looks cheap and sounds cheap, the killer usually looks like a Halloween costume when you glimpse him, it lacks the atmosphere of the more enjoyable slasher movies like the first four FRIDAY THE 13THs. Some of the editing is kind of confusing, and most of the acting is pretty bad. (I didn't realize one of the leads was Gaylen Ross of DAWN OF THE DEAD, credited under a pseudonym). It starts off with Halloween-party-favor-style credits and then a folk song about Madman Marz. And the opening scene is very familiar – I'm pretty sure I started watching this last year and gave up right away. But this time I watched the whole thing and enjoyed it. It has alot of funny moments and unusual twists on the formula.
For starters, what's this about it being a camp for gifted kids? Okay, they could've and should've done something more with this, I'm not sure why it's even mentioned because the kids are barely in it and don't use their smarts to defeat the Madman. But I like it because usually these movies promote stupidity and crassness. They'll have a couple reasonable people as the leads but most of them are howling party people, their enjoyment of sex and drugs is portrayed as an indulgence and it seems kind of preachy when it gets them killed.
I like that MADMAN acknowledges the counselors as adults with the right to be adults. They're friends on their last night together and it's okay for them to celebrate. Even their wise mentor (a rugged but eloquent mustached guy, picture a high school poetry teacher who lives on a farm and enjoys mountain climbing) wants to have a beer with them. There is a hot tub sex scene but it's not treated like fucking, it's more like married people sex. They talk about love, they slowly circle and they kiss each other. The Madman sees it through a window and then doesn't kill them. He probly thought "I feel bad for invading this private, consensual moment between adults." Which he expresses as a sasquatch-like grunt.
And there are little things too, like when they're telling the gory stories at the campfire everybody is smiling. Usually in a movie at least some of them would be getting scared and telling him to stop. But those characters are idiots. These characters know (well, believe they know) that it's just a fictional story for them to enjoy, not to get freaked out about.
I mean, these are not counselors who play pranks on each other or call each other mean names like "dead fuck." In fact, one counselor makes a public apology for being rude earlier at the campfire. Another makes a toast "to friends and friendship, to love and lovers." They praise each other for "contributing to the growth of the people as individuals." These are nice, respectful people who admire intelligence. How did they get into this slasher movie?
Well, but then they start doing stupid shit like wandering off into the woods alone, one-by-one. And they don't seem to make any effort to protect or worry about the kids. It might be making a point that so-called smart people make the same errors as anybody else because they get cocky. I don't know. It doesn't seem like it's making a point, but it might be.
Madman Marz looks kind of like a sasquatch, he's a big strong guy with long hair and beard. At the end they've got pretty good makeup on him, but earlier when they show him I think it's a rubber mask. Mostly you just see his bare feet, also clearly rubber. If you've seen the movie HATCHET, this guy looks and sounds and behaves pretty much the same as that character. Since he was hung he likes to kill people with nooses. And apparently he smells like ass. One of the counselors, while investigating the woods, suddenly gets a "who farted?" look on his face and says, "Smells like– AAACCK!!" as the noose goes over his neck.
These kind of gags are what kept my interest for the rest of the movie. Like the guy who, to defend himself, pulls out a wimpy little pocket knife. The girl who hides not in a closet but in a refrigerator, like Indiana Jones. The girl who gets a shotgun from the office (man, I'm surprised they don't have that thing locked up better) but accidentally blows off her friend's head with it. They usually don't use guns in a slasher movie, so it's nice to occasionally be reminded why not.
There are some good gore jokes too, like when the woman asks "Dave, are you hurt?" and then discovers that Dave has no head. (Take that as a yes.) In another scene they're having trouble getting their truck to start and when they look under the hood it turns out their friend's severed head is jamming the fan belt. And you gotta love the way the guy wraps the head in a towel to pull it out without his lady having to see it anymore. Quick thinking. That's why he's with the gifted kids.
How 'bout this gimmick? There's an ax stuck in a tree stump so hard that nobody has ever been able to pull it out. There's a standing offer of $100 to anybody who can do it. At one point two of the counselors put all their strength into and can't make it budge. Of course Mr. Marz later pulls the ax out and uses it, and I am proud to say that he does it one-handed. (To be fair he does grunt a little. It does exert him somewhat to do it one-handed.)
The badass award for survival excellence goes to the girl who gets stabbed, pulls the knife out of herself and stabs back.
And I always enjoy a movie like this for the weird touches I'm not sure I understand. So one strange highlight of this one is when the woman comes out from hiding in the refrigerator. She doesn't see Marz around so she gets a big smile on her face. She's tip-toeing through but she has this big satisfied smile, her mouth open with her weird, sharp teeth showing. Or maybe it's just a terror-face that's similar to a giant smile. I'm not sure. But whatever it is I like it.
MADMAN was directed by one Joe Gianonne, who didn't do much else. He was assistant director for THE CLONUS HORROR and NIGHTSONGS, that's about it. He wrote MADMAN with producer Gary Sale, who has a longer resume of first assistant directing spanning from the great VAMPIRE'S KISS in '88 to the, you know, the movie FROM JUSTIN TO KELLY in '03.
I don't see MADMAN as an unrecognized gem or anything like that. But it's a watchable off-brand slasher, and that's what I look for every Halloween. Sometimes you get tired of Pepsi, so you get a 2-liter of Go Cola from Safeway.