I've been hearing about this TV show "Lost" for a long time now, everybody loves it, lotta hype and what not. So I decided to check it out last Sunday when they had a special 2 1/2 hour episode called "The End."
Lost is the story of some people trapped on an island that as far as I can tell is made out of 50% soil and rock, 25 percent foliage, 10% magic and 15% metaphor. The guy from "Party of 5" is their leader and he's trying to stop THE STEPFATHER himself, Terry O'Quinn, from "destroying the island" and sinking it to the bottom of the ocean. In this episode they do not explain why or how or what the fuck. But these two guys see each other and run at each other and then jump up in the air and it cuts to a commercial.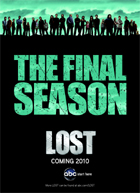 Of course, there is a magic well that transports people to a camp sight, and three other people are trying to fix a broken commercial jet – possibly the same one from EXECUTIVE DECISION – and fly it off of the island. Meanwhile, all of the same people are in the city working as doctors, cops, etc. and planning to go to a big concert. They don't remember each other, but then throughout the episode all the boys meet all the girls and they suddenly have flashbacks and remember that they're in love on the island.
One and a half words about alternate dimensions: fuck 'em. I know comic bookers and sci-fi heads feel that alternate dimensions are a great idea for a story and should be explored over and over again forever, but unfortunately they are incorrect. How many god damn stories can there be about the Star Trek guys flying through a space hole and finding themselves in an alternate dimension or timeline where everything is different because of one decision? In this world they decided not to drop the bomb on Hiroshima and Nagasaki, and we see how things are different. Well, if every decision you make has another dimension where you made a different decision, then what meaning is there to any decision? There is none. If you fuck up, don't worry, it's fine in another dimension. If you make the right decision, too bad, your doppelganger fucked up somewhere else. Everybody died. Or everybody lived. Who cares? Everything always happened.
Ironically there's probly some alternate dimension somewhere where I wear an eyepatch and have seen all the episodes of Lost and think alternate dimensions are cool. But luckily I'm not there so I'm sticking by my instinct on alternate dimensions. You heard me, alternate dimensions. Fuck you.
Thankfully this deal in LOST turns out to not technically be an alternate dimension. It's the same people from the island but transported to another world or plane of existence, possibly at a later date after the events on Symbolism Island. Or maybe it's simultaneous. At one point the Party of Five guy gets his neck cut on the island and also in the hospital where he works. It was almost like Freddy cuts you in your dream and you wake up with a cut. Since when has The Stepfather had Freddy powers? This is new.
Anyway, back on the island Party of Five is doing some kind of Hellboy shit involving a stone column, lava, magic crystals or who knows what. He causes a glowing thing to happen. This show is alot like LAND OF THE LOST. I'm not clear if it's an official update or just a blatant ripoff that uses a shortened version of the name. But there should be more dinosaurs.
They talk about alot of stuff that probly is cool if you watched the other episodes of the show (not sure how many there are) but out of context sound hilariously silly. For example, they mention somebody talking to "the black smoke." The leader seems to have been magically chosen and can transfer his powers through water. It kind of seems like there are different magic rules that kids made up while playing and they got adults to act it out on TV. But the music is pretty dramatic, so it works better than on the playground. Anyway, the fat guy has the power now so I assume he'll have to run toward Terry O'Quinn and then jump up into the air like a super hero.
Mostly I think the show is about how love conquers all. It conquers the talking black smoke, the Stepfather, the earthquake, the impossibility of fixing up and launching a giant fucking jetliner from a little piece of dirt, the transfer from one plane of existence to the next. You figure in general if you got stranded on an island you got slim pickings, you're gonna bunk up with whoever is available, whether it's Ginger, Mary-Anne or Toshiro Mifune. But luckily this group is mostly made up of beautiful heterosexual male-female soulmate pairs. One or two of them, like the Stepfather and the fat guy that says "dude" and mentions Star Wars alot, aren't good looking enough so they don't get girlfriends. But they at least make male friends. And the fat guy gets to wear sunglasses.
Anyway the point I was getting at is that they make these love connections while stranded on this terrifying island where at any moment they could end up talking to some smoke. But later they transfer over to another plane of existence and can't remember anything, but they still manage to reunite. They're now in what appears to be a populated city, but they find the same people from the more limited group of island castaways. This means they were meant to be.
This is actually very similar to what I have heard happened on another J.J. Abrams creation, the television series Felicity. In the final season Felicity graduated college and went off to marry her troubled, soft-spoken high school crush Ben (the guy from UNDERWORLD). But there were still five episodes left so they skipped forward to six months later and she caught him with another gal, so through witchcraft she travelled back in time to re-do her last year and try to get together with the boy she rejected, Noel (the killer from SCREAM 3). Being from the future she knew what decisions to make so instead of being tormented for 4 episodes about whether or not to tell her boyfriend she cheated on him she just walks up to him and blurts it out. Then she starts telling people she's from the future and gets locked up like Sarah Connor. Also her plan to get together with Noel doesn't work as well as planned, for example he is burned to death in a fire. But she manages to get back to the future and realizes even after conquering space and time to get away from her boyfriend that in fact they're meant to be together and more in love than ever. (also she brings a friend back from the dead as a bonus). And now they know it and can go on to make a life together in the land of whatever-happens-after-the-series-ends. So in substance if not specifics it's a very similar conclusion to Lost. All this according to wikipedia or something.
The obvious standout character on this episode of Lost was Terry O'Quinn. He seemed to be the scary master villain but a nice father figure in the other world. In this episode he doesn't get to show off as much as in THE STEPFATHER but he's very intense and bitter, with a a great presence and grizzled look. I believe this is a pretty well known show so I hope it gets him some more big movie roles and not just more TV. He could almost be a Punisher or something. Give him one of these older gentlemen revenge pictures we all love.
Anyway it was interesting to kind of get a glimpse of what this Lost was all about. I heard people talk about it about a million times and it was also on every cover of Entertainment Weekly ever made. Now I know what they were so excited about: love, and talking to smoke. In retrospect it might've been better to watch starting with the first episode instead of the last one, but who has time for that shit. I still haven't watched The Wire. I did watch Blade: The Series and some other shows.
the end
This entry was posted on Tuesday, June 1st, 2010 at 2:18 am and is filed under
Fantasy/Swords
,
Reviews
. You can follow any responses to this entry through the
RSS 2.0
feed. You can skip to the end and leave a response. Pinging is currently not allowed.