This websight called Letters of Note recently posted a letter they got ahold of from 24-year-old Clint Eastwood to Billy Wilder. Eastwood was trying to get the role of Charles Lindbergh in THE SPIRIT OF ST. LOUIS and wanted to let him know that he wasn't happy with the quality of his screen test. It's cool because it's so polite and modest and also shows a young man striving for the excellence that we always see him achieve seemingly so effortlessly. This was 1954, before he'd done anything, including that lab coat wearing bit part in REVENGE OF THE CREATURE.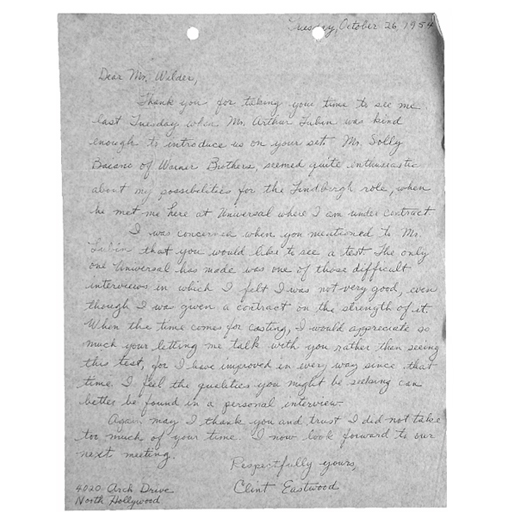 Click on it to see the original post which is more legible and includes a transcript.
–thanks to Laird
This entry was posted on Saturday, March 20th, 2010 at 12:52 pm and is filed under
Blog Post (short for weblog)
. You can follow any responses to this entry through the
RSS 2.0
feed. You can skip to the end and leave a response. Pinging is currently not allowed.