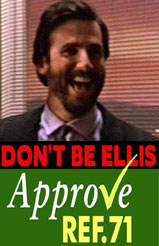 A quick reminder: If you're here in Washington state and allowed to vote, please remember to approve the "let's keep basic gay rights" referendum R-71. If you haven't been following it, here's the deal:
Earlier in the year Washington finally passed a bill giving domestic partners (gay couples and elderly people who have lived together forever without getting married) some of the rights that married couples have. It's not even true equality because they can't get married, but it applies to things like visiting in hospitals and inheriting property and things like that.
Well, of course common sense and being nice is not allowed, so some scumbag out of state bigots (themselves documented tax cheats and wife beaters) paid a bunch of naive religious people to go around making up blatant lies about how the law was going to teach elementary school kids to have gay sex and penguins at the zoos will have to wear cock rings or whatever, and they got just barely enough signatures to put it on the ballot as R-71.
And to make it confusing, the thing on the ballot is the law itself, so you gotta vote FOR it if you believe in basic equality. Not against it because you are against the nitwits who forced it on there.
I mean, I understand that Leviticus is against gay sex and eating shellfish and shaving but what kind of a huge asshole and fake Christian wants to legally stop an old lady they never met from visiting her life partner in the hospital? There's just no way to civilly disagree on stuff like this. It's like saying, "I like punching orphans in the balls, it's just my belief. Please don't be intolerant of my views." To actively go out of your way to legally prevent this kind of thing – you are an asshole. There is no way to be a nice person who wants to make sure the government prevents gay couples from visiting each other in the hospital.
So please, if it's in your power, APPROVE THE SHIT OUT OF R-71. Don't let these assholes come into our state and ruin everything.
thank you and sorry for the interruption.
special thanks to Mr. Subtlety for inspiring the "Don't Be Ellis" graphic in the comments
This entry was posted on Monday, November 2nd, 2009 at 12:28 pm and is filed under
Blog Post (short for weblog)
. You can follow any responses to this entry through the
RSS 2.0
feed. You can skip to the end and leave a response. Pinging is currently not allowed.