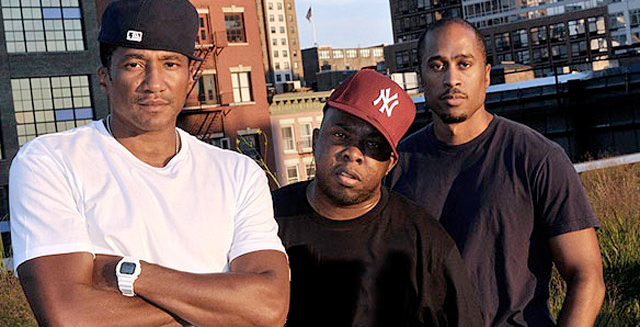 I have to say a few words about Phife Dawg of A Tribe Called Quest (pictured center), who died last night. Rolling Stone reports that it was due to complications of diabetes, which is what you'd expect of the MC who called himself "a funky diabetic" on the classic "Oh My God" and who several years ago received a kidney transplant. It was donated by his wife, as was touchingly depicted in Michael Rapaport's documentary Beats, Rhymes and Life.
I have to agree with the conventional wisdom that A Tribe Called Quest is one of the best rap groups ever. There was a time in the '90s when I started to resent them as the group that every white non-rap fan would say they liked, along with Beastie Boys. But eventually I had to admit to myself that those guys were right. I liked their first album, People's Instinctive Travels and the Paths of Rhythm, which they made when they were teenagers and wearing to wear goofy costumes. The album holds up due to songs like "Bonita Applebum" and "Can I Kick It?" But it's their second album, The Low End Theory, that makes them all-timers.
I still kinda remember the feeling of hearing it for the first time. It seemed so weird and stripped down compared to the complex samplescapes that I loved at the time. The sampling of some jazz basslines and horn riffs seemed very distinct and novel at the time, but the drums seemed so simple and raw. And that's what still stands out to me today. As much as I love their voices and words, I am hypnotized by the drum.
That's what I think about when I think of The Low End Theory as one of my top albums of all time. But then I listen to their third album, Midnight Marauders and remember that it's possibly as good, especially with "Steve Biko (Stir It Up)" back to back with "Award Tour."
That was definitely their peak, but the following albums Beats, Rhymes and Life and The Love Movement (which has a ton of great beats by the late Jay Dilla) are nothing to shake a stick at. Stop shaking a stick at them. I need to single out "Da Booty" from The Love Movement for humiliating me on public transportation one time. I was sitting in the very back and the beat is mixed so loud that it was bleeding out of my headphones and the bus driver singled me out over the intercom for having "personal entertainment much too loud." That song is single-handedly responsible for me not using earbuds anymore.
Q Tip was always seen as the leader of A Tribe Called Quest. He was apparently responsible for much of the production, he had the smooth voice, the "abstract" lyrics. Phife was the underdog of the group, his rhymes were a little cruder, his voice was unusually high, he was short – "the five foot assassin" – for a while it seemed like he was the little brother trying to prove he was cool enough to hang with the older guys. (Actually they grew up best friends.) After they broke up and then would reunite sporadically to tour it was still a fight because (as seen in the documentary) he felt Q Tip was a dick to him and also didn't appreciate the importance of performing to pay his medical bills.
I don't know, I always kinda thought they would get old enough that they'd remember their brotherhood and put it behind them. I admit I was worried though when I saw their last ever TV appearance, reuniting to do "Can I Kick It?" on the Tonight Show a few months ago. They mostly stayed far away from each other and Phife was wearing sports gear while Q Tip was wearing some crazy rock star cape or poncho or something, like they were in two entirely different groups.
See, Q Tip is the genius of the group, but he's never caught on as a solo act, and that's because he'd had the perfect balance with Phife. I've always thought a crucial unrecognized element of hip hop is the transfer of one voice to another. The invisible space between the verses. Each of their verses are great on their own, but when placed in a row, creating a juxtaposition and an interplay, they are far more powerful.
Phife came from what he thought was a lackluster performance on the first album (I disagree) and became Most Improved on album two. He had a positive and inspirational energy and he was a goofball, with some funny, ridiculous lyrics. Of course there's the one about Seaman's Furniture that I never got until I saw the documentary (regional reference) but my personal favorite is when he seems to sincerely shout out "My best friend Steven at the Home Depot." I always wondered if that means he has a best friend named Steven and right now Steven works at Home Depot, or if it means a guy named Steven at Home Depot really gave him great customer service and he wanted to thank him in a song. Either way, my condolences to Steven.
I am so glad I got to see Phife and A Tribe Called Quest perform a couple times, and I know I will never stop listening to their albums. Thank you Phife and I hope you're somewhere where you can drink Dr. Pepper and not have to worry about it.
This entry was posted on Wednesday, March 23rd, 2016 at 10:46 am and is filed under
Blog Post (short for weblog)
. You can follow any responses to this entry through the
RSS 2.0
feed. You can skip to the end and leave a response. Pinging is currently not allowed.