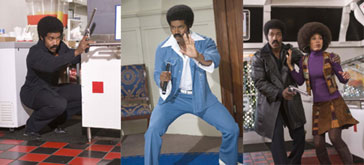 No joke, BLACK DYNAMITE won the Golden Space Needle Award, which is the top audience award at the Seattle International Film Festival. It joins such notable past winners as KISS OF THE SPIDER WOMAN, MY LIFE AS A DOG, BAGDAD CAFE, THE WEDDING BANQUET, TRAINSPOTTING and WHALE RIDER. And, uh, PUMP UP THE VOLUME.
Not to brag or anything but I gave it the highest rating when I voted, so I am partially responsible. Also it was the only movie I bothered to see at the festival this year, which means I pick 'em well. Congratulations to everybody involved, especially star/co-writer Michael Jai White and director/co-writer/one-time-outlawvern.com-commenter Scott Sanders.
This entry was posted on Monday, June 15th, 2009 at 11:33 pm and is filed under
Blog Post (short for weblog)
. You can follow any responses to this entry through the
RSS 2.0
feed. You can skip to the end and leave a response. Pinging is currently not allowed.