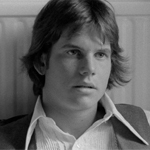 TAKING TIGER MOUNTAIN – not to be confused with Tsui Hark's THE TAKING OF TIGER MOUNTAIN – is a surreal post-apocalyptic experimental black and white art film, shot in 1975, screened in 1983, and never released on video until Vinegar Syndrome's recent blu-ray. It's most notable as the first performance by the late great Bill Paxton, who is the lead as well as the production designer.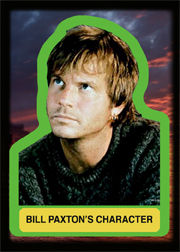 Like many people, I'm sure, I most associate Paxton with his funny whiny guy roles, especially Hudson in ALIENS. Game over, etc. And he stayed strongly associated with James Cameron as not only the lead in the present day section of TITANIC, but the real life friend who told Cameron, emerging from an actual expedition to the Titanic wreckage, about the 9-11 attacks (as seen in the Imax documentary GHOSTS OF THE ABYSS). They both came out of the Roger Corman school – Paxton worked as a set decorator on EAT MY DUST, BIG BAD MAMA and GALAXY OF TERROR, where the two first met. Though we all know Paxton ended up making it as both a leading man in blockbusters and a reliable character actor, remember that he directed the 1980 novelty music video "Fish Heads," the 2001 supernatural religious thriller FRAILTY, and the 2005 golfing drama THE GREATEST GAME EVER PLAYED. He was a filmmaker. But as a 19 year old working as a set dresser for the educational films of Encyclopedia Brittanica Features he befriended director Kent Smith (writer: MASSAGE: THE TOUCH OF LOVE; composer: VENEREAL DISEASE: THE HIDDEN EPIDEMIC), who thought he'd make a good star for an independent movie. (read the rest of this shit…)
VERN has a new action-horror novel out called WORM ON A HOOK! He has been reviewing movies since 1999 and is the author of the film criticism books Seagalogy: A Study of the Ass-Kicking Films of Steven Seagal and Yippee Ki-Yay Moviegoer!: Writings on Bruce Willis, Badass Cinema and Other Important Topics as well as the crime novel Niketown.