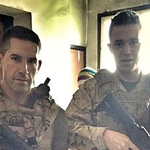 Maybe you didn't know this, but there are straight-to-video sequels to JARHEAD, the 2005 Sam Mendes war film based on the memoir by Anthony Swofford. They're not about Swofford, or other real people. They're just unrelated fictional stories about Marines in the Middle East. Part 2 I'm afraid was too generic for me to finish, but part 3 has Scott Adkins in it and is directed by William Kaufman, whose HIT LIST is a good high concept DTV Cuba Gooding Jr. thriller and even had some unexpected War On Terror commentary, making him an interesting choice for this.
Well, I'm not sure "interesting" is a word I'd use to describe JARHEAD 3, but it's not bad. Charlie Weber (CRUEL INTENTIONS 3, VAMPIRES SUCK) plays Albright, a pretty new but promising young Marine assigned to defend a U.S. Embassy. Adkins plays his Gunnery Sergeant Raines, who the men think of as a Buddha of the Marines. We only know this because PR department interviewer Blake (Dante Basco, who I know as one of the stars of FUNK BLAST, a movie ride that once existed at Seattle's EMP, and you know as Rufio from HOOK, and we all know as Pinball from BLOOD AND BONE) says so. I wish there was more in the movie to back it up. (read the rest of this shit…)
VERN has a new action-horror novel out called WORM ON A HOOK! He has been reviewing movies since 1999 and is the author of the film criticism books Seagalogy: A Study of the Ass-Kicking Films of Steven Seagal and Yippee Ki-Yay Moviegoer!: Writings on Bruce Willis, Badass Cinema and Other Important Topics as well as the crime novel Niketown.