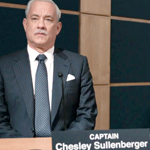 When I heard they made a movie about "Sully" Sullenberger, the pilot who heroically landed a downed commercial jetliner in the Hudson River, saving everyone onboard, I wondered how you would make a whole movie about that. Well, it turns out the story of Sully is a little more complicated than what I knew.
And I really mean a little more complicated. Not that much more complicated. He landed the plane, and then they said you know what, you might've done the wrong thing according some tests we did, and he said well this is why those tests are wrong, and after a while they said yeah you're right, sorry about that Sully. The end.
So it's weirdly uneventful for a movie about a famous airline disaster. But as a gentle character drama it's not bad, the kind of thing that Clint Eastwood can make much more interesting than most directors could. (read the rest of this shit…)
VERN has a new action-horror novel out called WORM ON A HOOK! He has been reviewing movies since 1999 and is the author of the film criticism books Seagalogy: A Study of the Ass-Kicking Films of Steven Seagal and Yippee Ki-Yay Moviegoer!: Writings on Bruce Willis, Badass Cinema and Other Important Topics as well as the crime novel Niketown.