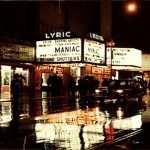 PLANET TERROR and DEATH PROOF
PREAMBLE
Here in the US these two movies were designed and released as a double feature with trailers for fictional movies in between. They were released under one unifying name that starts with a 'G' that is a word used to describe the shitty theaters that used to churn out sleazy horror, sexploitation, kung fu and blaxploitation movies back in the day.

I am not going to be using the g-word in this review, because I am sick and fucking tired of hearing it. It's a perfectly legitimate title for this concept, but here is the problem. Mr. Tarantino is a huge fan and expert on these types of movies, he is the human IMDb judging from some of those interviews. So I don't mind seeing him talk about it in every article about KILL BILL VOLUME 1 and then KILL BILL VOLUME 2 and then when they announced this g-word movie, and then while he was filming it and now to promote its release. Tarantino can use the g-word all he wants, he has earned it. So I don't mind him and the trailers for his movie trying to explain to the kids what the g-word means. (read the rest of this shit…)
VERN has a new action-horror novel out called WORM ON A HOOK! He has been reviewing movies since 1999 and is the author of the film criticism books Seagalogy: A Study of the Ass-Kicking Films of Steven Seagal and Yippee Ki-Yay Moviegoer!: Writings on Bruce Willis, Badass Cinema and Other Important Topics as well as the crime novel Niketown.