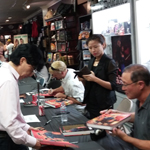 warning: I had to write this down as a time capsule of my book signing experience. Read at own risk.
Today, like the mighty sasquatch, I live as a recluse somewhere in the Pacific Northwest. Yesterday, in the name of transparency, I was out in the open in Burbank, California, joining lower-cased author david j. moore as one of the many guests signing his gigantic coffee table book THE GOOD, THE TOUGH AND THE DEADLY: ACTION MOVIES & STARS 1960s-PRESENT.
"It's about action stars, not action movies," david kept telling people as he signed their books. He'd wanted a different subtitle that made that more clear. Rather than trying to catalog everything that could technically qualify as an action movie – which could end up being half super heroes and transformerses and shit – he chose to zero in on the dying art of the action star vehicle. I remember him calling me for counsel on this issue a few years ago. I don't think I was much help, but I agreed with his eventual decision to limit it to actors who primarily or exclusively do action, and (with a few exceptions) started as martial artists or athletes. That means no to my boys Bruce and Clint, sorry to say, but yes to JCVD, Cynthia Rothrock, Jerry Trimble, Michael Dudikoff, Olivier Gruner, ex-diver Jason Statham, and plenty of people I'm not even familiar with. People who never had books about them before, who you never thought would have books about them. (He does include Bronson, Stallone and Schwarzenegger, if you're worried.)
(read the rest of this shit…)
VERN has been reviewing movies since 1999 and is the author of the books SEAGALOGY: A STUDY OF THE ASS-KICKING FILMS OF STEVEN SEAGAL, YIPPEE KI-YAY MOVIEGOER!: WRITINGS ON BRUCE WILLIS, BADASS CINEMA AND OTHER IMPORTANT TOPICS and NIKETOWN: A NOVEL. His horror-action novel WORM ON A HOOK will arrive later this year.