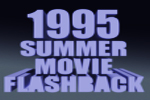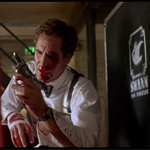 According to Wikipedia, August and September are considered "dump months," "when there are lowered commercial and critical expectations for most new releases." And it has long been conventional wisdom that August is a crappy month for movies, when all the worst summer shit gets squirted out so the studios can be rid of it.
"For moviegoers, August also represents the nadir of Hollywood's output each year," writes Chris Hicks of Deseret News, summing up the belief of everybody else and everybody else's uncle. Back in 2008, Vulture even did a study called "The August Movie: A Theory of Awfulness" which calculated that "the studios have put out 169 lousy movies in the past fifteen Augusts, and merely 26 halfway-decent ones."
Release patterns have been changing in the years since, and few will deny the success and quality of GUARDIANS OF THE GALAXY, or that it's starting to become part of the Oscar season (best picture winners and contenders including ARGO, BIRDMAN, 12 YEARS A SLAVE and GRAVITY have come out in August). Last year Josh Rottenberg of the L.A. Times wondered "Is August no longer filled with Hollywood's dog days?"
But I'm here to tell you that August was always a month full of promise. Sure, pre-GUARDIANS a studio wasn't about to release a potential blockbuster smash at the end of the summer. But it's a good spot for things that are a little more interesting, that they think might have potential but are maybe not for mainstream people. In fact, that's my favorite type of movie. If you look at that Vulture study you can see that it's based on an elitist mindset that dismisses movies on the basis of being lowbrow genre movies, even if they're high watermarks for us. Their alleged 169 "lousy" movies included action pictures we love like HARD TARGET, DESPERADO and BLADE. And even a best picture nominee and universally beloved classic like BABE is only allowed to be "halfway-decent." (read the rest of this shit…)
VERN has a new action-horror novel out called WORM ON A HOOK! He has been reviewing movies since 1999 and is the author of the film criticism books Seagalogy: A Study of the Ass-Kicking Films of Steven Seagal and Yippee Ki-Yay Moviegoer!: Writings on Bruce Willis, Badass Cinema and Other Important Topics as well as the crime novel Niketown.