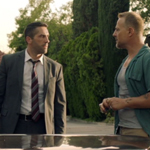 "Look, you're a tough guy, but you're also a good guy."
"I ain't that good, mate. You saw what I did to that lad, didn't ya?"
Yeah, I know, you're all aware that Scott Adkins is the reigning king of DTV action. That's not new information. You're all well acquainted with UNDISPUTED II and III and 4 and UNIVERSAL SOLDIER: DAY OF RECKONING, if not HARD TARGET 2 or EL GRINGO or the other ones.
What hasn't been discussed as much is that our favorite English martial artist has hit a new stride in his string of collaborations with director Jesse V. Johnson. Last year they did SAVAGE DOG, a weird and brutal period piece, followed a few months ago by the smart-ass assassin tale ACCIDENT MAN. Adkins gives honestly great performances in stoic roles like Boyka, who grunt almost as much as they speak, and I love those types of characters. But as co-writer and producer of ACCIDENT MAN, he not only gave himself a ton of great fight scenes, but all kinds of witty dialogue and first person narration that no other onscreen kicker could handle. And his latest continues the trend of retaining his Englishness and showing great charisma and verbal dexterity while still living up to the action expectations of a marquee-name martial arts star. (read the rest of this shit…)
VERN has been reviewing movies since 1999 and is the author of the books SEAGALOGY: A STUDY OF THE ASS-KICKING FILMS OF STEVEN SEAGAL, YIPPEE KI-YAY MOVIEGOER!: WRITINGS ON BRUCE WILLIS, BADASS CINEMA AND OTHER IMPORTANT TOPICS and NIKETOWN: A NOVEL. His horror-action novel WORM ON A HOOK will arrive later this year.