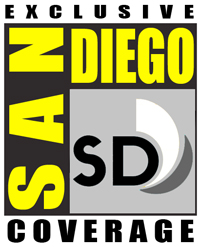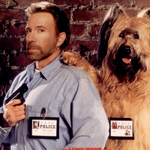 In the K-9 review I mentioned that it competed with TURNER & HOOCH for King of the Human/Dog Buddy Cop Movies. But TURNER & HOOCH takes place in the fictional northern California town of Cypress Beach, so who gives a shit? Nobody.
For the true San Diego/cop/dog experience outside of K-9 you gotta got to 1995's TOP DOG, where Chuck Norris plays Lieutenant Jake Wilder, a San Diego police detective actually assigned a dog named Reno as his partner. I don't know if this is K-9 fan fiction and the SDPD is supposed to be building off of the precedent of Jerry Lee, or if K-9 exists as a movie within this universe and it inspired them to do this for PR purposes. But the point is this is in the top two San Diego dog cop comedies of the 20th century. Just my two cents.
The filmatists seem to aim for the same basic approach as K-9 – jokes peppered through a serious action movie. The villains are white supremacists shown making hateful speeches (though thankfully light on racial slurs), they are mostly not played as bumbling buffoons. But there's cheesy, happy music by George S. Clinton (MORTAL KOMBAT), the jokes are broader than K-9, the action is cornier and the look is shoddy. On the positive side there are more explosions, kicks and jumping stunts. All these things can be explained by who the director is: Chuck's brother Aaron Norris (DELTA FORCE II). (read the rest of this shit…)
VERN has been reviewing movies since 1999 and is the author of the books SEAGALOGY: A STUDY OF THE ASS-KICKING FILMS OF STEVEN SEAGAL, YIPPEE KI-YAY MOVIEGOER!: WRITINGS ON BRUCE WILLIS, BADASS CINEMA AND OTHER IMPORTANT TOPICS and NIKETOWN: A NOVEL. His horror-action novel WORM ON A HOOK will arrive later this year.