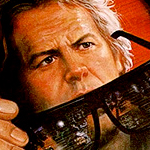 I was shocked and saddened today to stumble across the news that wrestling legend "Rowdy" Roddy Piper had died. I didn't see this one coming. I thought he was gonna be one of the ones that gets to grow old.
I know some of you are serious wrestling fans to this day. That's not me. But I'm one of the millions who was obsessed with WWF wrestling in the 1980s. It was a time when pro wrestling stopped being seen as a lowbrow fringe activity and was allowed to intersect with all parts of culture. Andy Warhol went to a Wrestlemania. Cindy Lauper and Alice Cooper became wrestling managers. A more experienced manager, Captain Lou Albano, played Lauper's father in a video. Wrestlers released terrible albums, which I bought on vinyl. On Saturday mornings there was a cartoon called Hulk Hogan's Rock-n-Wrestling, and every fourth Saturday Night NBC showed wrestling in place of SNL. When one of these Saturday Night's Main Events took place in Seattle I was there. I was thrilled to see Andre the Giant in person (although he didn't wrestle) and Brian Bosworth in the crowd. I was [undisclosed] years old and witnessing these larger than life individuals – cartoons of good, evil and awesome sculpted out of muscle and fat and encased in colorful spandex – was like catching a glimpse of the Greek gods. (read the rest of this shit…)
VERN has been reviewing movies since 1999 and is the author of the books SEAGALOGY: A STUDY OF THE ASS-KICKING FILMS OF STEVEN SEAGAL, YIPPEE KI-YAY MOVIEGOER!: WRITINGS ON BRUCE WILLIS, BADASS CINEMA AND OTHER IMPORTANT TOPICS and NIKETOWN: A NOVEL. His horror-action novel WORM ON A HOOK will arrive later this year.