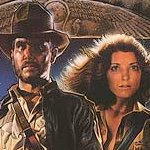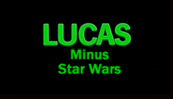 Have you guys seen this RAIDERS OF THE LOST ARK movie yet? I was always under the impression that it was pretty well known, but then they changed the title to INDIANA JONES AND THE RAIDERS OF THE LOST ARK so I guess it must've been one of those BY THE BOOK/RENAISSANCE MAN or EDGE OF TOMORROW/LIVE DIE REPEAT type of situations where it didn't do well enough so they changed the title. The last resort of the marketing scoundrel. Anyway, this is the movie that Steven Spielberg made because he was sad they wouldn't let him do James Bond and he wanted to make the fuckers pay dearly. He and George Lucas were kickin it V.I.P. style on the beach in Hawaii right after STAR WARS came out. They were probly like wearing cool shades, just hanging out pumpin some jams on the boombox, it was alot like this song is how I picture it, and it is said that the volleyball scene from TOP GUN was based on them. So George is spotting while Steven is doing some bench presses in my opinion and George starts talking about this old script he wrote with Philip Kaufman before STAR WARS, a thing called THE ADVENTURES OF INDIANA SMITH that's kinda in the style of the old cliffhanger adventure serials. After they got home they ended up reworking the whole thing and having this guy Lawrence Kasdan (who was writing STAR WARS'S EMPIRE STRIKES BACK) do a new script.
So they got the ideas and production of Lucas plus the supreme directing chops of Spielberg, and they made a great movie. I love that the opening shot is the Paramount logo dissolving into an actual mountain. It's a signal that they're taking extra special care from the first frame on to make every detail great. I know there are exceptions to this rule (DOOM), but usually when the filmatists even put thought into how to make the studio logo cool that means there's gonna be some serious elbow grease in this movie. No laziness. (read the rest of this shit…)
VERN has a new action-horror novel out called WORM ON A HOOK! He has been reviewing movies since 1999 and is the author of the film criticism books Seagalogy: A Study of the Ass-Kicking Films of Steven Seagal and Yippee Ki-Yay Moviegoer!: Writings on Bruce Willis, Badass Cinema and Other Important Topics as well as the crime novel Niketown.