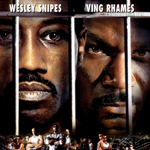 Ever since the unlikely series of events that turned UNDISPUTED into one of today's greatest action franchises, I've tried to better appreciate Walter Hill's 2002 prison boxing drama that started it all. In my review from fifteen years ago I called it "asinine" and generally had a bad attitude toward it without really giving a strong argument for why. Over the years I've rewatched it a few times and though I always think it's decent, it never quite clicks for me. I can't say that's entirely changed on this viewing, but I definitely liked it more than on previous viewings.
So I did it! I better appreciated it!
The story is about a humble toothpick-model-builder and convicted murderer named Monroe Hutchen (Wesley Snipes, MONEY TRAIN) who's just minding his own business being the undefeated champion of a secret prison boxing league when suddenly the actual heavyweight champion of professional boxing, George "The Iceman" Chambers (Ving Rhames, THE TOURNAMENT) gets locked up there. And it's like having both a Jason and a Freddy out there in the universe – eventually, one way or another, these two are gonna have to end up pitting their skills against each other so we can see who wins. After all, the legendary mobster Mendy Ripstein (Peter Falk, PRONTO) is in there too and he's a passionate connoisseur of the sweet science, he's not gonna let it not happen. (read the rest of this shit…)
VERN has been reviewing movies since 1999 and is the author of the books SEAGALOGY: A STUDY OF THE ASS-KICKING FILMS OF STEVEN SEAGAL, YIPPEE KI-YAY MOVIEGOER!: WRITINGS ON BRUCE WILLIS, BADASS CINEMA AND OTHER IMPORTANT TOPICS and NIKETOWN: A NOVEL. His horror-action novel WORM ON A HOOK will arrive later this year.